NEWS

Students learn they can be whatever they want to be
By Brittany T., Grade 8 student, Brother Rice Junior High, St. John's, NL and SNN Staff




"I want to be a nurse"
"I want to be a writer"
"I AM going to be an engineer"!
View the Techsploration Scrapbook
On May 8 and 9th female students from the Avalon East and Labrador School Boards came together in St. John's to explore careers in trades, technical and technology related fields. The event called Techsploration aims to help young girls understand how high school math and science can influence their future careers. This is the second Techsploration event held in Newfoundland and Labrador and is sponsored by the Women's Resource Development Committee (WRDC).
Techsploration 2003 brought together Grade 8 and 9 female students from Brother Rice, St. John's; Holy Cross, St. John's; St. John Bosco, St. John's; Mount Pearl Intermediate, St. Michael's, Bell Island; Frank Roberts, Foxtrap; Mobile Central High, Mobile; and JC Erhardt in Makkovik, Labrador.
But Technsploration 2003 did not begin here. It began in February when participating schools, companies and role models came together to provide young women with an opportunity to explore these types of careers and create an awareness of the role work plays in their lives. Each school hosted a team which consisted of six girls, a teacher, and a female role model. Each team was assigned a trades or technology occupation to research which included an interview with a female role model and a worksite tour.
| | |
| --- | --- |
| | On Thursday, May 8th these teams gathered at Hatcher House, Memorial University where they met other students participating in the event and all the role models. For the team from Makkovik, this was the first time they actually met their role model. Their previous interaction was held in a virtual classroom. |
Thursday afternoon a 'Round Robin' event was held which introduced each team to all the mentors in the project. The role models hosted activity stations with visual aids to inform students on their careers and companies. Students moved from station to station learning about exciting careers open to them, careers they may not have thought of if it were not for an event such as Techsploration. The girls showed a great deal of interest, asking lots of questions about the role model's career and workplace.
Sara Walsh, a student from Holy Cross Junior High, stated, "when you see it on tv, these lines of work don't seem very interesting, but when you really get to experience them, they are".
"It's great to see the kids have this opportunity. It certainly wasn't available to me when I was a student in rural Newfoundland", noted one teacher.
Students spend Thursday evening getting to know each other, chatting, participating in fun activities put on by the Techsploration staff and generally 'having fun'. The girls quickly bonded as they shared a common interest -- to learn from women who are in the workforce in non-traditional careers. Different girls from different schools who would never have met and shared this experience without Techsploration.
On Friday, students headed to the College of the North Atlantic where the day's activities would be held. The morning was spent participating in a 'Survival Relay Race', an activity throughly enjoyed by all the girls. Following the race, the girls participated in workshops with their role models. Again the girls asked many questions, gaining a greater knowledge of their role model's work.
In the afternoon a luncheon was held to thank sponsors of the event as well as celebrate the effort put forth by students, teachers and role models. Ms. Lorraine Michaels, Executive Director of Women in Resource Development Committee was the MC. Michaels spoke on the Techsploration program and the group's ambitions for the future. She stated that their goal is to be able to involve young girls throughout Newfoundland and Labrador in this innovative program.
The Hon. Yvonne Jones, Minister Responsible for the Status of Women for the Government of Newfoundland and Labrador gave the keynote address. Jones reflected on her career and the challenges she faced. Her advice to young women -- "you'll find role models and mentors everywhere....right in front of you. At home, school and in your community. Learn from them."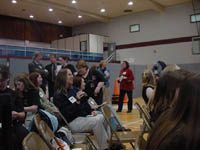 Following the lunch, students, teachers, and sponsors gathered to see each school make a presentation on what they learnt from their experience and about their role model. Unfortunately one school, St. Michael's from Bell Island, was unable to do their presentation as a fellow student from their school passed away on Friday and the team returned to their community to grieve with their schoolmates.
Enthusiam filled the room as each team prepared for their presentations. The girls were both nervous and excited. Presentations ranged from pamphlets on energy conservation, the Dance of the Rotting Plum Fairies, a radio show on GIS, to the 'Bacteria Factor' and a mocked up helicopter.
Danielle, a student from Mount Pearl Intermediate said "It was very interesting....I learned at lot about the work force".
Following the presentations, certificates and prizes were awarded to the students, wrapping up another fun-packed, informative and exciting learning experience. One that will remain with the girls for years to come.
To learn more about Techsploration, visit www.wrdc.nf.ca
Back to Front Page