NEWS
Youth Making Decisions
By Jennifer Wu, SNN Editor, Roncalli Central High, Port Saunders, NL
Youth are given an opportunity to play an active role in the economical development of their area.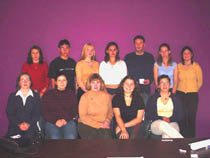 This opportunity is presented to youth, aged 16 to 30 in each of the 20 economic zones within Newfoundland and Labrador. In Economic Zone 7, covering Trout River north to St. Barbe, the RED (Regional Economic Development) Ochre Youth Forum, this year held in St. Paul's, allowed students from various schools in the zone to participate in economic activities and take in presentations promoting youth involvement.
"The RED Ochre Regional Board plays a leadership role in the development and implementation of the economy," says RED Ochre Chairperson Colleen Kennedy.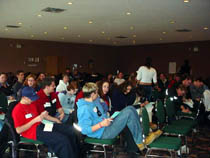 Youth are given a chance to discuss their ideas through being a part of the (RED Ochre) Youth Council. "The youth council has an opportunity to represent young people, to discuss their ideas and think up solutions relative to what the youth think," states Dana Pittman, youth representative for RED Ochre and youth council member. These ideas are then brought to the RED Ochre Regional Board for further review.
Members who sit on the youth council are responsible for getting the opinions of young non-council members back to the board. "Although not every idea can be done, every single one of them is discussed," explains Dana Pittman. She also stresses that the youth council is important because it "adds a youth perspective to any problem the RED Board undertakes."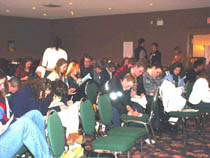 According to Dana Pittman, you don't have to be an honour roll student to make it on the youth council. Basically, the RED Ochre Regional Board wants youth who are willing to commit, like Stacey Perry of Holy Cross All-Grade, Daniel's Harbour, who says, "The youth council puts a lot of work into what they do," and Jada Patey of Roncalli High School, Port Saunders, who says, "If you want to be on the council just to be able to say you're on it, don't. Make sure you really want to be involved."
The youth council "tries to be involved in as many events and programs as we can, like Rural Expo and other youth conferences," explains Jada. She also adds that the youth council is responsible for speaking to adults at strategic planning sessions, presenting ideas to the RED Ochre Regional Board members, and writing letters or proposals to various organizations for support. The youth council helps present various opportunities to other youth.
One opportunity the youth council helped make youth aware of was the Youth FAM (familiarization) Tour. This tour, sponsored by the Human Resources Development Center (HRDC), was a three day tour during the month of July for youth from Zone 7. Youth FAM was, according to Youth FAM attendant Gwyn Rumbolt, a great success. They learned about opportunities in regards to employment and visited historical sites within the zone. "Tours on social and economic development for youth are just one of the initiatives the youth council undergoes," comments Dana Pittman.
Jada Patey, who is currently sitting on the youth council as the past member remarks, "I chose to be on the youth council for another year as the past member because I have an interest in the economic growth in our area. After my first year on the council, it made me want to stay so I can be a part of everything that's happening."
"It has also made me more aware of the opportunities that lie in front of me each and every day," Jada continues. "I know now that I do not have to move from my province for education or work-being on the youth council has showed me that I can successfully make a life for myself in Newfoundland. Overall, being a part of the youth council has taught me many things about my abilities when it comes to helping contribute to our economy, despite the fact that I am young."
Stephen Parsons, development officer for RED Ochre and also a youth council member concludes, "Having youth groups such as the youth council helps us learn stuff which everyone already knew in some regards…. The youth council is a fun and engaging way for youth to get involved. Having youth involved in economic and community development is a real good thing, and it's important to have youth involved and in interact for that kind of development."
Back to Front Page