NEWS
When I Grow Upů
By Lindsey House, SNN Editor, Roncalli Central High, Port Saunders, NL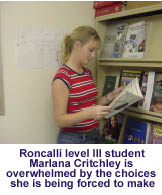 "Mom wants me to be an accountant. Dad wants me to be a dietician. I just want to live and be happy." Level III's are feeling the pressure of choosing a university major and career even before graduating.
"I'm not really sure what I want to do. I would like to have a job working outside, but there is always something that changes my mind," stated level III Roncalli High Student, Sarah Spence. She, along with some of her fellow classmates are already feeling the urgency to find a career goal.
David Sparkes, Mental Health and Addictions Counsellor from Port Saunders stated, "Not a lot of pressure is healthy. However there must be some ground rules for students, and teenagers must keep the lines of communication open. Teachers and parents may not be aware that they are placing pressure on students. The faculty and family cannot read minds. Teenagers need to talk to people." Sheryl Ann Critchley, mother of a level III Roncalli student and resident of Port Au Choix cited, "In some cases a lot of pressure is being put on teenagers, and in some cases there is no pressure. It depends on the situation. I have always encouraged my daughter to go to university, but if she didn't want to go I wouldn't press her."
Sarah Spence sighed, "I feel pressured into deciding a career now, by my parents. They are always saying you have to hurry up and choose. As well they are telling me what I will and will not like." Other students like Sarah feel the strain from parents. David Sparkes also added, "Stress and pressure are perceived. What may be stressful for one person may not bother another. Everyone has stress in their lives. You need to be aware of it and address it. Take an assessment of your life. Try to remove the stressful things. Be comfortable and have attainable goals. Realize what you can and cannot accomplish."
"High school should be a combination of experience and education, a chance to grow and learn how to work with people. Learning skills to use in the real world at university and at a job. You create working relationships. Setting goals you want and learning what goals are possible to achieve," Mr. Sparkes commented. Mrs. Critchley noted, "It is very important for my child to attend university. To receive a better education so that she will obtain a more useful job. What can you do with grade 12? Nothing. You can't get work with that. University is better than trade school in my opinion."
Parents like Mrs. Critchley are putting the pressure on their children to go to university and forgo other options like trade school and colleges. Options which may hold the keys to job opportunities that could make all the difference in their child being miserable or happy. Is university the only way to be happy? Mrs. Critchley also added, "If my child were to go to university and change her major it would really bother me. Because I don't think there are any jobs in any fields other than nursing."
Most teenagers however feel that they may change their minds several times. It's a big decision to make right away. "Sometimes the number of choices out there is scary because when I decide on one thing, there's still a lot more choices to pick from," Sarah Spence related.
"My wish for my daughter's future is for her to get a bachelor of nursing. That's what she wants and I've always encouraged her because you can get a good job in the medical field." Mrs. Critchley acknowledged. "What I want in life," Sarah Spence exclaimed "is a good job that makes good money."
It seems that ultimately what everyone wants is a job that generates a good income. However, parents of level III's may be placing pressure on their children by picking their career goals, schools and lifestyles. While the students don't really know specifically which career to pick they do know they want to experience life and just be happy.
Back to Front Page