NEWS
A Glitch in Time
By Mahmoud H., Fredericton High School, Fredericton, NB
Dinslaken, a small town in Germany, once had a population of 350 Jewish people; today there is only one Jew left, and she is an old lady.
Four high school students from Dinslaken, Germany recently came to Fredericton High School to present a brief history of the Jewish community that once flourished in their hometown. Although the information presented was not particularly personal, it represented the history of Dinslaken, the teenagers' hometown.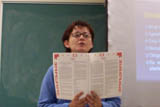 "When you concentrate on personal fate and personal life then history becomes 'touchable," said the students' supervisor, Ms. Khanna. "Try to get into connection," she said in reference to history and world issues.
The students each presented a different aspect of Jewish life in their town before 1939, the year when Dinslaken was occupied by the Nazis. They discussed pre-war Jewish education and the elite Jewish orphanage that once existed in the town. One of them explained that a Jewish synagogue represents prosperity, and the Nazis tore it down. Each of the students emphasized that if we learn tolerance for people who are different from ourselves then we can prevent these horrific acts from happening again.
Fredericton students appreciated the tangible, personal information that their German counterparts provided on Dinslaken, a town that most of the students had never heard of before.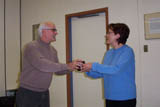 Back to Front Page