NEWS
Is Keiko really free?
By Eva Mari Gundersen, Romsdal Secondary School, Molde, Norway
See video report &nbsp



Video story by Ole Saetor Hoksnes and Eva Mari Gundersen. Both students at Romsdal. Video was edited by video journalism students of Auburn High, Cole Harbour, NS - Lindsay Smith and Jacqueline Holland. They also helped the students prepare their script and story in English.
Click on photos to enlarge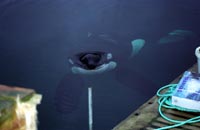 &nbsp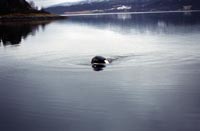 There´s never been so much attention around Keiko as there has since he came to Norway. Maybe that is because Norway is one of the few remaining whaling nations. Why Keiko came to Norway is a good question. Only he knows the answer.

But he did come here. Keiko was released from captivity in Iceland in July and late this summer, with winter on its way, swam south to Norway. He ended up in Skålvikfjord, Nordmøre , which is on the west coast of Norway, not far from where I live.
Everybody´s heard of Keiko, or "Willy" if you prefer. He is the beautiful Orca from the "Free Willy" movies. We all somehow feel that we know Keiko. That when we meet him, we will be a special person to him. Just like in the movies, all we have to do is play a song on a mouth organ and he´ll come swimming to us. This dream has sort of come true for every Norwegian. Keiko, unexpectedly, came to Norway and put a smile in our faces.
Halsa is a remote fishing community of 2000 people. However, the media circus around Keiko has turned Halsa to one of Norways biggest tourist attractions. Because of one animal, Halsa´s slogan turned into: "Do as Keiko, pick Halsa", and people did. Tourists from Germany changed their guided tours and put Keiko in the schedule. They couldn´t miss a chance to see Keiko, a real star from Hollywood!
With the cold Norwegian winter edging closer, his trainers, who followed him here from Iceland using satellite tracking, had to find a new place for Keiko to stay. He was no longer with other killer whales. They chose Taknes Bay, about six miles northeast from Skålvikfjord, and Keiko had to be moved there because the water freezes when the winter arrives at Skålvikfjord. A crew set up a base and Keiko was led by friendship and food into Taknes Bay.
Taknes Bay couldn´be a more perfect winter home for Keiko. Other Killer Whales usually swim past at this time of year and Keiko will have the chance to meet them. And Keiko´s free to do the same. His Canadian trainer, Colin Baird, is still trying to reintroduce him to the wild, to let him swim together with other Orcas. It may take a while. After all, he's been in captivity for over 20 years!
There´s a lot to think about when it comes to Keiko. He needs rest from the press and the thousands of tourists who have been visiting him since he came to Norway in September. Rules have been set up for visitors. Visitors on foot can't come closer to Keiko than 50 metres. It´s the same with boats. But you can still see the six ton Orca from that distance!
His keepers hope that Keiko will get a chance to be a regular killer whale some day, but some experts are saying that he´s too tame to be with other killer whales. He still has a longing for human contact. But there´s no question about "Willy" being free. He is, at last. He can do what he wants. And it took 23 years.
Back to Front Page