Indicates a Realvideo movie clip. Click the image or the story picture to play.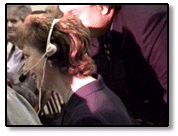 Irish president urges students to connect online

Students from Newfoundland and Ireland paired up over the Internet to work on an animation project and display the finished product during a visit from the Irish president to St. John's.


Full Story