ENTERTAINMENT
Movie Review: Trapped in a Manipulative Web
By Melissa, Grade 12, Marystown Central High, Burin, NL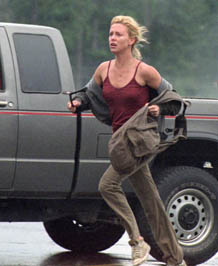 If you want to see an action movie filled with suspense, this is the movie for you.
"Trapped" is directed by Luis Mandoki in a style far different from that of his previous films "When a Man Loves a Woman" and "Message in a Bottle". The situation revealed in the film is a mess that you would never want to find yourself in. Starring Kevin Bacon and Charlize Theron in a frightening show about vulnerable parents and kidnappers.
After the prelude, which gives an idea of the kidnapper's goals, we are introduced to the perfect couple, Will (Stuart Townsend) and Karen (Charlize Theron) Jennings. Karen is a textile designer, and a mother to 8-year-old Abby (Dakota Fanning). Will is a intelligent doctor who has just invented a lucrative wonder drug.
Their "perfect" family is about to be changed into a living hell when three kidnappers invade their lives. Marvin (Pruitt Taylor Vince) babysits Abby while Cheryl (Courtney Love) and Joe (Kevin Bacon) make life miserable for the happily married couple. Will is out of town on a medical convention when Cheryl makes an attempt to seduce him. Mastermind Joe is staying with Karen and trying to manipulate her.
Joe uses pop-psychology lines like "I'm going to help you through this thing" and "I give parents the power to keep them alive" to manipulate the desperate couple into his devious plan.
Although the film compares to real life, tragic events, it has a great ending that's worth waiting for. This film has an excellent storyline and would keep any viewer in suspense.
Back to Front Page