ENTERTAINMENT
"Slaying" Goodbye to Buffy
By Kayla W., Grade 12, Marystown Central High, Burin, NL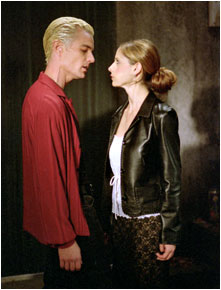 Fans world wide of the cult-hit, Buffy The Vampire Slayer, were shocked to learn that this will be the show's last season on air. Joss Whedon, executive producer and master-mind behind the show has decided to end the series and go out with a bang. And that's exactly what fans are going to get.
Now in the show's seventh season, Buffy has begun her last battle with the forces of evil. "We all wanted to go out in a blaze of glory", Sarah Michelle Gellar, the show's star, told BBC News "Last year we considered calling it quits, but we all knew the season was far from being great. So we came back this year with better ideas and so far, this season is doing better than any of them put together." And it's true. The characters are wittier, the Big Bad (Buffy slang for the season's villain) is exactly that, Big and Bad, the vampires and demons are back in action and the show to show plots are jammed packed with stakes, villains and the occasional apocalypse.
But what's the real reason behind the series finale? The actress behind Buffy, Sarah Michelle Gellar, decided not to renew her contract in order to pursue a career in film.
Earlier this week, it was announced that Gellar was close to signing on to the feature film Romantic Comedy. Production on the love struck spoof starts in August, the time when Buffy would start filming on its eighth season. The casting news put a stake through Gellar's return to the UPN series.
A MediaConnections.Net article quotes Whedon as saying "It's hard to believe it's over," said Whedon. "Well, it's hard to think at all, or stand, or form vowel sounds, so maybe it's time to take a break. I'm just glad I can say we did our best on every single episode. We didn't always succeed, but we never slacked, and I'm immensely proud of my writers, actors and crew for that. And I'm proud of what this show means...I truly believe that in years to come, people will look back and say 'that was a show that was on TV.' Yes sir. I truly do," said Whedon.
It truly will be sad to see such a hit leave after such a time period. What will Tuesday night TV be like without the Slayer and Slayerettes kicking immortal butt? Whedon and cast promise a great ending to the seven year cult hit. There will be a number of guest appearances in the final episodes by none other than bad girl Faith (Eliza Duskhu) and the broody vampire ex-boyfriend Angel (David Boreanaz). The once forbidden cross-overs between Buffy and Angel have been allowed for Buffy's finale, which will see Faith and Willow travelling back and forth between shows.
The series finale airs May 20th, to the dismay of millions of dedicated fans worldwide.
http://www.upn.com/shows/buffy/
Back to Front Page