NEWS
Good Nutrition and Good Thinking

By SNN Staff and Claire Malone, Leah Young (Grade 6) and Tyler Bartlett (Grade 5), student reporters from Mary Queen of the World, Mount Pearl, NL
Good Nutrition and Good Thinking is the theme for this year's Kids Eat Smart Week in Newfoundland - October 21-25th. This year's launch was held at Mary Queen of the World (MQW) in Mount Pearl on Monday, October 21st.
Principal of MQW, Mr. Jim Brazil opened the event by welcoming special guests, parents, teachers and students both in attendance at MQW for the event and viewing the event via the internet by webcast, thanks to STEM~Net, Newfoundland and Labrador's Student-Teacher Education Multimedia Network.
Following Principal Brazil was Ms. Susan Greene, Executive Director of Kids Eat Smart who introduced the guest speaker for the event, the Honourable Judy Foote, the province's Minister of Education. Minister Foote stressed the importance of good eating habits and for young students to ensure they begin their day with a good breakfast. She applauded the Kids Eat Smart organization for their efforts to ensure all children of the province have access to proper nutrition through the promotion of breakfast, lunch and snack programs at their school.
Host for the event was MQW student, Rosalind Whiffen. Whiffen thanked everyone for joining the event from all parts of the province. She introduced the other special guests: Newfoundland performers the Ennis Sisters, members of the St. John's Maple Leafs hockey team and Buddy the Puffin, mascot for the St. John's Leafs. She stated that prior to the day's events, students from around the province were invited to submit questions for Ennis Sisters and the Leafs. Nineteen questions in all were asked and answered by the Guests. Questions such as 'What is your favorite dessert?' The answer from both the Ennis Sisters and the Leafs: Ice Cream which drew loud applause and laughter from the young students. 'Of course' stated, Theresa Ennis, 'I try to limit the amount of ice cream I eat and normally go for fruit and yogurt instead". Another question was 'What is your favorite vegetable? Karen Ennis said she enjoyed most vegetables but especially brocolli and corn. Leaf player, Craig Simms said, "I know this is going to seem strange, but ever since I was a young boy, I've enjoyed brussel sprouts". Yuk! was all that could be heard in the gym from the students, followed by much laughter.
Before the day's events concluded, the Ennis Sisters performed for the audience followed by students from MQW dancing to and singing the Kids Eat Smart theme song.
Click on photos to enlarge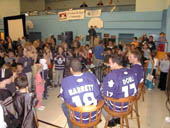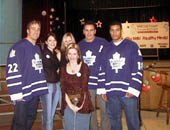 SNN Student reporters, Claire, Leah and Tyler had an opportunity to interview the Leafs and Ennis Sisters:
Leafs: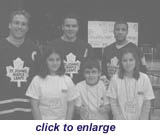 Question 1 by Tyler: Why do you feel it was important to take part in today's events?

Craig Mills: I think it is important as athletes and adults in the community to help kids eat healthy. They tend to look up to hockey players and other athletes so it is good to get out to the schools and talk with them. Tell them how important it is that they have a good breakfast, so they can learn and think clearly.

Question 2 by Claire: What is your favourite breakfast cereal? And Why?

Doug Doull: Definitely Raisin Bran. I have it every morning.

Question 3 by Leah: What is your favourite pasta dish?

Nathan Barrett: I'd have to say spagetti and meatballs. Have it all the time.

Ennis Sisters: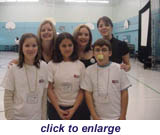 Question 1 by Claire: Why did you, as Newfoundland performers, want to be involved with Kids Eat Smart and today's events?

Maureen Ennis: I think it is very important for us to get out and stress on kids the importance of eating healthy. I remember a friend I went to school with. She had a chocolate bar every morning for breakfast. She never did well in school, never had any energy. Good healthy eating is what helps you get ahead in life and be successful. So its important for us to tell young people that its imperative they eat healthy throughout the day.

Question 2 by Leah: Do you eat pasta? If so, what is your favorite?

Karen Ennis: We all like pasta. We usually make it with olive oil, vegetables, chicken or seafood. No heavy sauces.

Question 3 by Tyler: What is your favourite sandwich?

Theresa Ennis: Definitely tuna is my favourite. I have it a lot, especially when we are on the road.




Back to Front Page