NEWS
School Fundraiser huge success
By Dave Gray, Fredericton High, Fredericton, NB
Click on photos to enlarge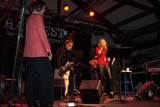 CBC Radio's Information Morning host Barb Roberts and saxophonist Hans Martini and friends entertained the crowd, in a fund raiser for local schools.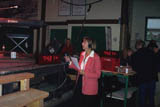 CBC Radio's Information Morning host Barb Roberts and her crew supported the FHS music program with an early morning show dedicated to local students.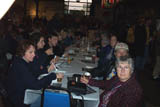 The crowd that turned out for the early morning show were hungry for pancakes and eager for music.




An early morning successful effort for the Fredericton High and Leo Hayes High School bands raised seven hundred dollars. With the help of musicians from the Harvest Jazz and Blues festival and an always supportive parent group, the band put on a delicious, entertaining and reasonably-priced breakfast.
CBC Radio's Information Morning show hosted live from the breakfast. Those FHS'ers involved in the band program who were not in the stage band helped out in numerous ways around the event. The participating school bands included the FHS and LHS stage bands plus an appearance by the George St Project. Several others were volunteer performers from the festival. This included an amazing performance from the Hans Martini Quartet.
Mr. Don Bosse, conductor of the FHS bands and department head of the arts at FHS was enthused. "It was a big success, better than last year!" said Mr. Bosse. He was right, the turn out was much better this year than last, and therefore much more money was made. The parent group and our own principal Mr. David MacMillan did the serving and cooking of the food. CBC Morning captured the whole thing live on the morning show, hosted by Barbara Roberts who on that particular day hosted the fundraiser and Radio Morning concurrently.
Back to Front Page