NEWS
"The making of FRAMED"
By SNN Staff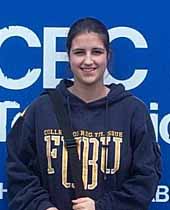 SNN student reporter Jillian Dollimont of Port Saunders, NF was one of twenty-six students in Newfoundland to attend the FRAMED media camp in St. John's during June of 2002.

While attending the camp Jillian produced a video titled "The Making of Framed" which you can view on the FRAMED website .
(You'll need to download Windows RealVideo to view the video).

The idea behind the camp was to educate and inform youth about the world of media. Not only in workshops and discussions but through a great deal of hands on film and radio production - a world they may be considering as a career.

FRAMED was a Media Camp for senior high students organized by the St. John's International Women's Film & Video Festival in partnership with CBC Newfoundland and Labrador. It began with a contest asking students across the province to submit a script. The winning script would then be put into video and audio production.
The winning entry "Medium Black Coffee", written by Matthew Murphy of St. John's, depicts his views on the human condition and behaviour.
FRAMED taught students about media production and promotion by mentoring them through the process. Under the instruction of industry professionals, students produced both a short film and a radio play of the same script. These lucky students had an opportunity to learn about directing, producing, staging, scripting, learning lines, voiceovers, reporting, editing etc.
Jillian worked as part of Team Communications which produced audio and video news reports on the activities of the FRAMED media camp. Check out the FRAMED website to view the work by Jillian and Team Communications as well as the activities of Team TV and Team Radio. The video 'The making of Framed" is presented on the main page of FRAMED website (right hand side).
LINKS:
FRAMED website
St. John's International Women's Film & Video Festival
CBC Newfoundland and Labrador
Back to Front Page