ENTERTAINMENT
Changes in Pearl Harbor to suit Japan's demands? Rises Again
By: Alanna F., Brother Rice, St. John's, NF
Pearl Harbor is a 'no surprise' moneymaker at the box office in North America, but can we say the same for box offices in Japan?
The film Pearl Harbor is a movie based on the actual events that took place on December 7, 1941. It remains arguably the most devastating day in American History. Pearl Harbor was the largest U.S. Naval base located in the Hawaiian Islands.
On the morning of Dec. 7, a surprise aerial attack was launched by a Japanese fleet onto Pearl Harbor. Several U.S. Warships were sunk. Many people were killed, and the United States naval ability was temporarily knocked out. The movie captures these events using incredibly powerful special effects. The characters are based on real people, and it also tells a romantic love story.
Before the premiere of Pearl Harbor in Japan next month, some changes are set to occur. There had been numerous amounts of controversy surrounding the issue that the film contains inappropriate language towards other races.
A scene occurs in the movie where the line "those dirty Japs" is used. According to E-News reporters, the word, "dirty" will be cut to suit Japan's audiences.
Also, producer Jerry Bruckheimer told reporters last week, "The film will be the same except for the credits. The marketing, however, will be a lot different. In North America, we'll be selling Pearl Harbor as a war film and a love story, but in Japan, we'll be selling it as a big love story."
Today's society, luckily, is more politically correct than it was 60 years ago. Pearl Harbor is a movie set to take place back in the 1940's, and is demonstrating how the people acted during that time. We shouldn't take today's political correctness and apply it to the early 1940's. What happened to Pearl Harbor happened. There should be no changing history. The more realistic, the better.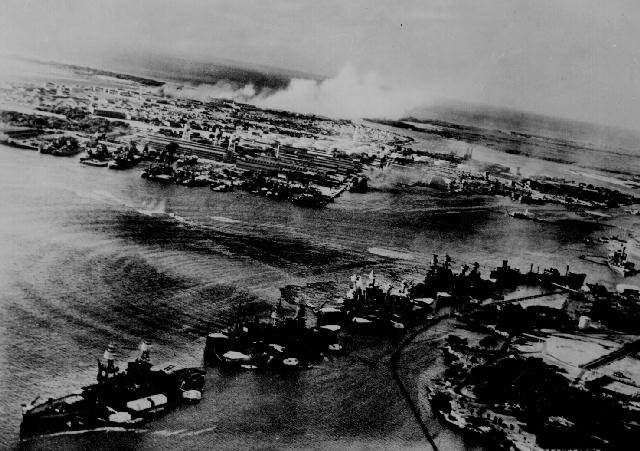 1010 Dock, during the Japanese invasion at Pearl Harbor. (Battleship Row)



Back to Front Page





Back to Workshop Articles