HOOK, LINE & NET 2001
Microworlds with Bill Jameson and Beth Power
By: Erika Lavers, Roncalli Central High, Port Saunders, NF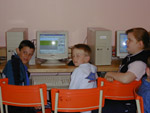 This year's Hook, Line and Net Conference in Grand-Falls offered many new and exciting workshop at Kids Camp. One such workshop was Introduction to Microworlds. This program allows kids to create their own programs and educate themselves. Kids can create their own games, publish, and learn problem solving.
Through this program children have the ability to use their own creativity and knowledge of a topic to create a program through which other students including themselves. They can create games or programs dealing with money management, math problems, science projects, and a wide variety of other concepts. Kids can use this program to create web pages that express their interests, share the games and programs that they created through the same program. Jay Grosse, an 11 year old attending the camp, says that Microworlds makes it much easier to make a webpage and create programs. He also says the program is much better than other programs he's used. "The graphics are really neat," Jay says, "it makes the program better to use."
Another interesting fact about Microworlds is that it is not just for children. The program is easy enough for kids to use, but yet it is complex enough to handle the most technological project that a more advanced student may need. The introduction to this program was done by Bill Jameson, and Beth Power. Jameson told this reporter that he has used the program to create programs that have helped him learn at a college level. One example is an algebra program which helped him to learn exactly what algebra is and its use in the world.
Jameson also informed us that to purchase a site permit to allow the school to place this on any computer throughout the school would cost $2,500, but all schools in Newfoundland receive this program free.
Back to Front Page
Back to Hook, Line & Net 2001