HOOK, LINE & NET 2001
Learning Over The Summer
By: Lindsey House & Lori O'Keefe, Roncalli Central High, Port Saunders, NF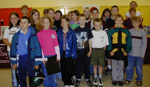 It's nine o'clock in the morning and twenty-eight kids from grades four to six are sitting in the computer room at Sprucewood Academy, Grand Falls-Windsor. This is not what you would expect on a beautiful morning during summer holidays. On Tuesday, June 26th Hook, Line, and Net 2001 kicked off its yearly symposium and held its commendable Kids' Camp. This camp ran through Tuesday and Wednesday.
Doug Furey, School District 5 Technology Specialist, Walwin Blackmore Mayor of Grand Falls-Windsor, Bill Jameson, Assistant Director of STEM~Net, and many volunteers got the camp up and running and made all of this possible. This excellent opportunity provided the kids with many new skills in today's technology. To begin the day they started their own webpages with Christa Caravan and explored the new program Microworld with Beth Power and Bill Jameson.
The kids also assembled and decorated their own kites and built radios similar to the one Marconi used on Signal Hill. Between flying kites, creating communications and eating snacks they explored the world of digital photography and improved on their knowledge of Microworld.
The focus of this camp was to provide the younger generation with the skills in technology that they will definitely need later in life. Doug Furey, organizer of the camp said, "Students many times are our best teachers and although I know that students who attend this Kids Camp will have fun and learn a lot, so will the teachers."
Chantelle Weir, an eleven year-old student from Little Bay Islands told us the camp was actually a lot of fun and she had learned more about computers and different programs. Which was exciting for her because this was her motivation for attending the camp. She said, "This is an excellent camp!"
Another eleven year-old from Grand Falls-Windsor, Jay Grosse commented, "It's very fun!" His favourite part of the camp was the building of the kites and the work they did with the computers.
This years Kid Camp 2001 was a phenomenal success. Both kids, volunteers, and organizers enjoyed this program. It was a great way to teach kids and have fun. With the success of this year's camp, you can be sure that kids will be learning about technology through this medium for many years to come!
Check out SNN's Hook, Line & Net 2001 main page for more pictures of Kids Camp.
Back to Front Page
Back to Hook, Line & Net 2001