&nbsp
NEWS
Learning From the Past: In Memory of the Holocaust
By Kristen Williams, Grade 12, Prince of Wales Collegiate, St. John's, NL
During the dark years of World War Two, hatred and racism empowered Adolph Hitler to annihilate over twelve million innocent people while the world watched in silence. Six million of the victims were Jews, one and a half million of them children, and the others included disabled people, gypsies, homosexuals, Slavs, Communists, Catholics and political opponents.
On April 25th 2004, the City of St. John's joined with hundreds of cities around the world to commemorate the tragedy of the Holocaust, in the hope that remembrance and reflection will keep a crime of this magnitude from ever happening again. The solemn and dignified Newfoundland Holocaust Memorial Day Service was conducted by the Hebrew Congregation of Newfoundland and Labrador and attended by hundreds of people of varying ages and from diverse cultures.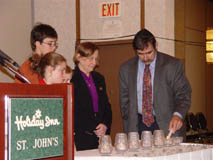 The service honored the victims of the Holocaust through a variety of reverent readings, respectful prayers and riveting performances. The Mourner's Kaddish was recited in Hebrew and the Memorial Prayer In Memory of the Six Million was presented in its' original Aramaic language. Charlotte Malischewski, a student violinist, played the hauntingly beautiful " Vidui " (Contrition) from Three Pictures from Hassidic Life. This emotional piece was composed by Ernest Bloch, who fled Europe in the 1930's in fear of persecution. A scene from the highly acclaimed musical 'Cabaret' was also performed during the service. 'Cabaret' is set in Nazi Germany during the 1930's and explores the social climate of the time. The scene that was performed deals with a young woman who is afraid to marry her Jewish fiancée for fear of persecution. It was very appropriate to the reflective tone of the service and provided one heartbreaking example of the effect of tyranny on the personal lives of innocent people.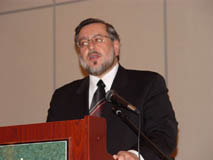 Guest Speaker Frank Dimant, Executive Vice-President of B'nai Brith Canada and the head of its Institute for International Affairs and League for Human Rights, gave a riveting and thought-provoking speech on "The New Anti-Semitism and Echoes of The Holocaust." The son of Holocaust survivors and one of the first children born after the war, Mr. Dimant reflected on the massacre of innocents and how no one was willing to respond to the terrible injustice perpetrated against defenceless people. He spoke passionately about the new Anti-Semitism which is rampant in many Canadian cities and around the world today. The burning of books, proliferation of racist graffiti and desecration of graves are reminiscent of Nazi Germany. His message was very clear. We must take expressions of hatred or threats against any group of people very seriously. "Remembering alone is insufficient" he said, "We have a responsibility to the victims not to repeat the mistakes of the past." He also gave us a stern warning about the threat of terrorism: "When Hamas, Islamic Jihad and Hezbollah tell you that they're going to do something - believe them!"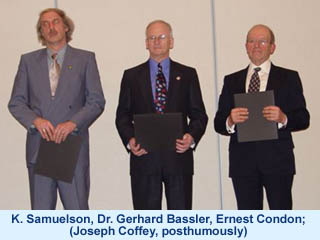 During the service, four Newfoundlanders were honored for their outstanding contributions to Holocaust education and awareness in our province. Joseph Coffey, one of the Canadian Forces soldiers who liberated the notorious Bergen-Belson prison camp, was awarded his certificate posthumously. His grandson proudly accepted on Mr. Coffey's behalf. Mr. Coffey was well known for his informative presentations, especially his eyewitness account of the horrors of this particular concentration camp. He always said "Tell anyone who denies that the Holocaust ever happened to come and talk to me!". Dr. Gerhard Bassler, professor Emeritis in Memorial University's History Department, developed and still teaches the university's first specialized Holocaust course: the Holocaust in Historical Perspective. Ernest Condon, former Burin Peninsula School Board supervisor, taught about the Holocaust for many years after becoming the first teacher in our province selected to attend B'nai Brith Canada's Holocaust and Hope Educators' Tour of Germany, Poland, the Netherlands and Israel.
My English teacher, Mr. Keith Samuelson, attended what turned out to be the last Holocaust Educators' Tour in the summer of 2000. Mr. Samuelson was honored for his extensive work as a speaker and Holocaust educator, but especially for his leadership in establishing a learning resource which is a model for Holocaust and Human Rights Education. The P.W.C. Holocaust Project www.pwc.k12.nf.ca/projects/holocaust continues to be the subject of Mr. Samuelson's presentations to students and teachers provincially, nationally and internationally. He says "Howard Gardner has stated that if students studied only three topics in school - Darwin's Theory of Evolution, Mozart's Marriage of Figero and the Holocaust, then they would develop all intelligences" He also stated, " I believe that it is virtually impossible to teach empathy and achieve the most important educational outcome - humane global citizenship - without learning the lessons of the greatest catastrophe ever inflicted upon any group of people and applying them to what's going on in the world around us ".
Moderator Elliott Leyton, quoting Elie Wiesel, said "There is a level of truth so deep that it can only be conveyed through silence". It was in the midst of a somber yet rejuvenating silence that six candles were lit in memory of the six million Jewish victims of the Holocaust. We should also remember that Wiesel said that memory is a powerful weapon that can protect us against future attacks. Memorial services provide an opportunity for us to honor those who were victimized and slaughtered. They must also inspire us to act so that more recent hate crimes are never repeated.
| | |
| --- | --- |
| | &nbsp |
Back to Front Page
&nbsp