NEWS
Chun Jie Kuai Le
By Tiantian C. Wang, Grade 12, Westmount Secondary, in Hamilton, ON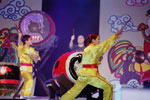 Chun Jie Kuai Le! Happy New Year, again! On January 22, Chinese people all over the globe are going to celebrate and welcome the arrival of a new year, The Year Of The Monkey.
Chun Jie, loosely translates to Spring Festival, and is known as Chinese New Year to the West. It is a time for family reunions, a time to honour and remember the ancestors.
Celebrated each year on a different date, the actual day of the New Year is determined not by the western calendar, but by the lunar calendar used for thousands of years before the western calendar was invented. Usually the date of the new year falls between January 21 and February 19.
When I first immigrated from China with my family five years ago, the Chinese New Year celebration here in Canada seemed to be much more toned down than the wild celebration in China. But at my house, my parents maintain this tradition in honour of our heritage and to remind us of our rich culture.
What I miss most about celebrating the new year in China is the laughter (sometimes a few tears) shared with my relatives, sitting around and talking about old times. I would always get squashed by the adults when trying to find a seat and listen to their conversations. My extended family simply packed the whole house. Every year, the stories told seemed to be the same. Nevertheless, I found them refreshing and enjoyable year after year.
Sometimes, I feel sad and left out around this time of the year, especially when most of my relatives are celebrating the new year without me. But a quick phone call overseas to my grandparents to wish them Chun Jie Kuai Le, always lifts my spirits and makes me feel more festive.
Just like many during Christmas or Hanukkah, on Chinese New Year, I drop everything and really count my blessings; I realize how much I have to be thankful.
Toronto Celebrates Chinese New Year 2004
| | |
| --- | --- |
| | &nbsp |
Back to Front Page