ENTERTAINMENT
Compilation sounds Supreme
By Casey W., Grade 12, Fredericton High, Fredericton, NB
Diana Ross and the Supremes-The Ultimate Collection
Diana Ross and the Supremes
Motown Record Company (1998)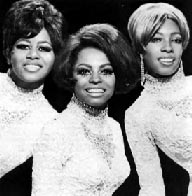 Fame and fortune seemed only like a dream to three girls from the ghetto until Motown legend Berry Gordy signed them to his company in 1961. The Supremes reigned supreme all throughout the mid-1960s. They not only escaped poverty but also had to break through racial barriers to gain an enormous fan base among whites ---- which was very unusual at that time.
The Supremes consisted of Mary Wilson, Florence Ballard and Diana Ross who signed with Berry Gordy's Motown label straight out of high school. They were the first black female group to be marketed toward white audiences.
Their first hit single in 1964 was "Where Did Our Love Go" and they went on to have a total of 12 number one hits from 1964 to 1969.
The recording quality of this compilation CD is very crisp and clean. Their songs are richly produced with tracks of drums, violins and pianos layered in with the vocals of the group members.
The Supremes' songs parallel many of the themes that teenagers face - love and yearning. Their hit, "Where Did Our Love Go" is still probably one of the most infectious of their songs to date. The steady beats that are cut by Diana Ross's crooning of "baby, baby..." captivates your attention and will seduce you into repeating the song over and over again.
The catchy tune, "Stop in the Name of Love" talks about something many women can relate to - the heartache of a cheating boyfriend. "Baby Love," with its repetitive chorus is catchy, easy-listening and fun to sing along with. The group's hypnotic rhythms and vocals make it almost impossible to listen to a Supremes song without tapping your foot along to the beat.
The musical score they use to emphasize their vocals is extremely well chosen. The most obvious example is the enriching sound of the violins used in the song "Someday We'll Be Together."
The Supremes had obvious vocal talent but it was plain from the beginning that Diana Ross had something special - she had charisma. The other women were singers but Diana was a diva. The trio lost this charisma when Ross left the group in 1970 but the remaining members trudged on until it was apparent they had nothing left to give.
This album is fabulous. It has all of the original Supremes greatest hits. Even if this isn't your type of music there's nothing like these upbeat melodies to cheer you up on a rainy day or to pep you up when you're feeling lazy. Although the original Supremes careers may have been short-lived this album demonstrates their range of talent and the caliber of their songs.
Back to Front Page