ENTERTAINMENT
Static-X, Their A Machine
By Rebecca M., Grade 12, Fredericton High, Fredericton, NB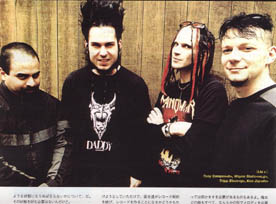 Machine
by Static-X
Warner Bros. Music 2001
The second effort by Chicago-then-L.A. band Static-X is a hardcore disco mix. A bit more metal for the boys this time around, or as their saying goes "more evil, less disco."
The band, fronted by Wayne Static on vocals, and all guitar for the album, has all the ingredient to become a huge band. Great music by Wayne, Tony Campos on bass and backing vocals, Ken Jay on drums, and Tripp Eisen who is now the guitarist, but joined only after the recording of the album. Killer videos, such as "Cold" featuring Wayne fighting off a group of vampires that include all his band mates and "Black and White" where the band is playing in a tunnel filled with electricity who then start flickering in between people and skeletons . Great stage presence, with Wayne's foot high hair, their hard not to remember, and in some cases really heartfelt lyrics.
"Machine" has a range of intensity to suit or create many moods. The hard hate sound of title track "Machine" to the lonely, almost regressed lyrics of "This Is Not" and to the chilling dis-attached tune of "Cold". Staying true to itself there's always lots of guitar, drums and keyboards but heavier and there's more loops and samples in the new album. They've also changed in that the lyrics on "Machine" have more meaning to them, instead of the catchy yet fairly shallow lyrics of the past such as "I'm With Stupid" and "Sweat Of The Bud".
I believe this band has infinite potential and if music stations would give them more of a chance, could become the next Nirvana, bringing the world into a new wave of music. Rock, metal and possibly some very open-minded disco fans could love this album, but listener beware though, "Machine" is only for the truly dedicated music fans, as it is more intense than anything that mainstream music fans would have likely ever listened to.
Back to Front Page