ENTERTAINMENT
"Clueless" is anything but
By Casey W., Grade 12, Fredericton High, Fredericton, NB
Clueless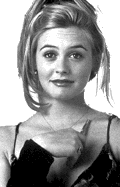 Amy Hecklering
Paramount Pictures (1995)
"So, okay, you're probably going, `Is this like a Noxzema commercial or what?' "says Silverstone to the audience, after an opening montage showing her character Cher, a comically over privileged, super-popular, spoiled, Beverly Hills golden girl making an outfit decision. The scenes that follow are just as unbelievable and hilarious.
"Clueless" is a smart comedy written and directed by Amy Hecklering. Cher (Alicia Silverstone) lives with her widowed and divorced father (Dan Hedaya)- a successful lawyer who has spoiled his baby since her mother died having liposuction. Cher's best friend is Dionne (Stacey Dash) and they are the stereotypical California Valley Girls.
Their lives revolve around fashion, make-up and boys, and their vocabulary is composed mostly of "like", "as if", and "whatever". Helped by best friend Dionne ("She's my friend because we both know what it is like to have people be jealous of us," Silverstone notes), the plot then turns on Cher's efforts to prove that she's not totally shallow. Silverstone's good deeds include shopping for the underprivileged, doing a makeover on Tai (Brittany Murphy) the totally clueless new girl in school, helping two sublimely unhappy teachers find romance (to put them in a better mood so everyone's grades will improve), and getting her driver's licence (in one hilarious scene she remarks that there's no point in practising parking because everywhere you go "has valet".) Everything in Cher's world is perfect until two new guys appear on the scene. One is a new classmate, Christian, whom Cher is unaware, is gay, and the other is her serious but cute ex-step-brother Josh (Paul Rudd). Cher realizes that although she's been the one giving advice on love to everyone, when it comes to her own relationships she's "clueless."
Alicia Silverstone, the Aerosmith video goddess, memorably lights up the screen, playing 16-year-old Cher Horowitz, a spoiled little rich airhead, who is at the same time very likeable. She cleverly puts a little satirical spin on many of her lines. She is one of the most totally self-absorbed characters in a movie but is also tough and clever like her dad.
Dan Hedaya's role as Cher's father is unforgettable as he proves that parents do not have to be invisible in teen flicks to make them enjoyable. He knows everything that's going on, cares for his daughter, is protective of her, and tells a kid taking her out on a date "If anything happens to her, I've got a .45 and a shovel. I don't think you'll be missed." His other funny scene is a heart-to-heart talk with his daughter, where he remarks on how proud he is says. "Honey, I couldn't be happier than if they were based on real grades."
Director Amy Heckerling uses a throng of pop culture references to draw in her audience. You have to like a movie with lines such as: "Searching for high grades in high school is like searching for meaning in a Pauly Shore movie." And Cher's commentary on the way high school boys dress is bang on. "I don't want to be a traitor to my generation, but I don't get how boys dress these days," Silverstone complains, as the camera follows a quartet of droopy-pantsed, and backward-capped boys. Heckerling uses smart dialogue to set "Clueless" apart from other teenage flicks which allows it to appeal to a vaster audience.
The "Clueless" Soundtrack was released in conjunction with the movie and did quite well on the sales charts, due to some big artists recording unheard songs on this soundtrack. It includes songs by popular artists the "Beastie Boys," "Counting Crows" and "Radiohead."
The entire movie is a satire on teenage life and is awash with irony. While Cher spends a good part of the movie trying to prove that she's not shallow, the irony is that her actions are more of a person who is genuinely smart and good-hearted. Despite appearances, she's about as far from shallow as you can get.
"Clueless" is loosely based on the Jane Austin novel "Emma". Although a few minor details are changed it stays very close to the story and has actually been hailed as a better adaptation of the book than the movie "Emma". You may think that "Clueless" sounds like a stupid and fluffy movie like the teen flicks it has spawned but the performances and clever dialogue make "Clueless" anything but clueless.
Back to Front Page