ENTERTAINMENT
Music Fights Hunger - A look back at Live Aid
By Casey W., Grade 12, Fredericton High, Fredericton, NB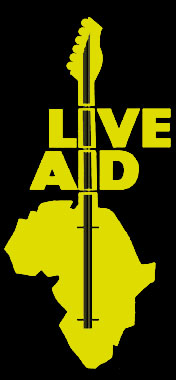 The most intriguing trend of the eighties was the ongoing trend of benefit singles and concerts. Rock musicians developed a social consciousness and used their fame and power to make the world a better place. July 13, 1985 was one of those days that everyone remembers. Unlike Woodstock which was strictly for the hippies, Live Aid was for everyone.
Live Aid was the first ever concert used to raise money for a charity. This concert would be concentrating on the famine in Ethiopia which was brought to world wide attention by a BBC documentary. Bob Geldof, a successful pop singer from Dublin, was the force behind this concert. He had previously produced benefit singles such as "Do They Know It's Christmas?" as a way to raise awareness about the situation. The song raised over $20 million dollars world wide and became the best selling single in British history, but Geldof wasn't satisfied. He wanted to do something more global – a full day concert, a global telethon consisting of 16 hours of music.
Geldof planned to have the most important rock artists of the last twenty-five years on one stage. One concert would take place from Wembley Stadium in London and the other from JFK Stadium in Philadelphia.
Getting this concert off the ground was no easy task. Getting bands to commit to either London or Philadelphia on a certain day was incredibly difficult. Geldof dealt with this problem by telling them that others had agreed before he had even talked to them. The biggest problem was that Geldof wanted everyone, including broadcasting companies, venues, concession stands, as well as the bands and their crews to donate their time for free. However, eventually everyone did give in to him.
Geldof was also able to orchestrate the reunions of several bands for this concert, such as The Who and Black Sabbath. The biggest reunion was Led Zeppelin with Phil Collins replacing their drummer, the late John "Bonzo" Bonham. Despite these incredulous reunions, several major artists did not perform at Live Aid. Bruce Springsteen, Prince, and Michael Jackson, who were the three hottest stars at that time, did not participate at Live Aid. Making up for some of that absence was Phil Collins who performed first in the U.K., and then hopped a Concorde for an encore in Philadelphia.
Live Aid ended up raising over $100 million for the Ethiopian famine relief and it ultimately set the stage for more recent fund-raisers like Farm Aid. War and famine, unfortunately, remain prevalent in the world today. Maybe it is time for musicians to develop a social consciousness yet again and try to make a difference.
Back to Front Page