SPORTS
Joe Sakic
By: Ryan Hoskins, Level 1 student, Crescent Collegiate, Blaketown, NF
There is little doubt that Joe Sakic is the best player in the NHL today. In the 2002 Winter Olympics, he lead the Canadian team to their first gold medal in fifty years, beating the American Team 5-2.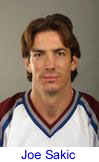 In total Sakic had four points in the gold medal game, with two goals and two assists. He also scored the game winning goal. He was named the Most Valuable Player by the attending media for his performance in the gold-medal game and earlier games.
Last season Sakic helped lead Colorado Avalanche to the Stanley Cup after a 118-point season with the team.
Following the season, after a 26-point playoff showing, he was awarded many trophies including the Hart Trophy, the Lester P. Pearson award, as the players choice for MVP, and the lady Byng trophy, for the NHL's most gentlemanly player.