Is it trash or insightful?
High School literature meets controversy

Turner Fenton Campus
Brampton, Ontario

By Catherine M. (Grade 11)

To censor -- In the Webster's dictionary this verb is defined as examining in order to suppress or delete anything considered objectionable. This word seems to have come into existence fairly recently because people have just started to wonder and question censorship. Although it may be a word that is associated with corrupt governments and the media, censorship is having considerable impact on school boards across Ontario.
Recently, the censorship issue has resurfaced due to a Milton student's parent opposing a novel used at Milton District High School, in the grade 12 advanced English course. The novel is entitled Foxfire -- Confessions of a Girl Gang, written by Joyce Carol Oates. It includes some controversial issues such as some scenes of sexuality, homosexuality, and violence. Frequent profanity is found throughout the text.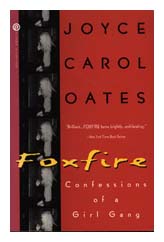 The student's father, Jack Huisman, organized a campaign called Parents Against Corrupt Teaching (PACT), and distributed approximately 60 000, 16-page flyers in Milton and two neighbouring communities. The flyer publicized his opinion on Foxfire which he describes as, "nothing but a cheap imported sex manual from the United States, glorifying the homosexual behaviour of its lead character. The only people endorsing this type of literature are the educational elite, one proud atheist-for-life, and the homosexual community." The flyer also included a ballot for a petition against Foxfire. Huisman claims to have more than 900 people who support his campaign, including Rev. Ken Campbell backing him.
Niyla V., an OAC student attending Milton District High School, collected a petition containing approximately 150 students asking to keep Foxfire in the school curriculum The petition was sent to the Board office. In an interview with Static, Turner Fenton's online newspaper, she had this to say about Foxfire, "I really enjoyed it. It talked about political issues and social injustices." She also said her class had really good discussions about the book and that most of the students that read Foxfire enjoyed it. The students had the choice of reading either Great Gatsby or Foxfire. According to Niyla, about 80% of the class chose to read Foxfire.
Attacks on Huisman's credibility have been made recently, such as one made by a public school Trustee, Tim Kingsbury, to The Canadian Champion. He claimed that only a few local names were on a Foxfire petition which contradicted Huisman's reported amount of supporters. Huisman has decided to quit the campaign because he feels that attacks being made against him are wrongful and unfair. The Halton Board of Education will continue the regional review despite Huisman's withdrawal.
The Foxfire debate raises the unanswered question of who should dictate what literature can, or should be, read by students. Many people, primarily parents, feel that questionable literature should be eliminated from the English curriculum. At the same time this would probably eliminate a lot of valuable reading material.
Education and training minister, John Snobelen says that he sympathizes with parents and plans to make a new policy which gives parents more say over what their kids are reading. The objectives the teachers will accomplish by using this novel, as outlined in the Milton District High School policy for approving textbooks and other learning resources, is :
- to encourage students to become pro-active advocates against violence.
- to make students aware that the misuse of power and the oppression of others is not always merely a matter of gender.
- to de-mystify the idea of gangs and the attractiveness of belonging to gangs.
- to examine the stereotyping of women and the treatment of women in 20th century society.
- to encourage students to discuss these important issues and to respond personally through response journals.
Free speech is a fundamental right in Canada accompanied with the right to read any available literature that one wishes to read. However, the liberties that are implied with this right have always been questioned. In schools across Canada there have always been disagreements about what can and should be read by students and who should make these decisions.
At the conclusion of the Foxfire review, a decision will be made which will affect Halton school boards and surrounding school boards. This decision could draw a line as to how far educational materials are censored. Controversial issues which have been avoided in the past have recently appeared as large components of some books used in high school. The Peel Board of Education's trustees and teachers have decided on literature that people may consider offensive or inappropriate for students. Much of the content in the English high school curriculum may be considered inappropriate for students, however, these issues are evident in all students' daily lives.
Gaining understanding about controversial topics could be positive in helping teenagers to understand themselves and society better. Although some degree of exposure to controvercial issues is necessary, educational material must always be kept at the highest possible standard of writing. It is important to keep in mind that whatever studen ts read in school has a powerful effect on themselves, and eventually on society.
Foxfire Credits - Cover design by Melissa Jacoby Cover photography by Doris Kloster Cover property of Penquin Group publishers.