NEWS
Ready! Set! Grow!
By: Jennifer N., Bishops College, St. John's, NF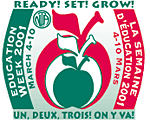 Education Week began on March 5th 2001 at 1:30pm and was celebrated within all the schools in Newfoundland and Labrador. This week celebrates and focuses on the whole education system, the issues that have been pressed upon education and the public attention directed towards education. The opening ceremonies were held at Gander Collegiate in Gander, NF.
The theme for this year's education week is Ready! Set! Grow! Un, Deux, Trois! On y va! . "Our theme this year, as in the past, puts the emphasis on encouraging parents, community members, etc. to become involved in education, along with students and teachers. This year's theme, Ready! Set! Grow! coincides with growth in education and getting ready to grow in all aspects of life." said Fred Andrews, the President of the Newfoundland and Labrador Teachers' Association, in his press release.
Many people attended the ceremonies including Fred Andrews and Education Minister Judy Foote. There were also performances by the Gander Collegiate drama troupe, and The Sensational Swingers.
Many events and contests were planned so that everyone could participate in celebrating Education Week. Two activities that are on the NLTA website target junior high schools. For example, there's an activity book, the instructions for making your own kite and an opportunity to participate in a GrassRoots project with your school. The activity book has suggestions on how to get involved in the themes of each day of the week.
Local NLTA branches sponsored their own events. In Bay Roberts they sponsored a public speaking contest on March 21st for students in their area. The NLTA is also hosting a contest titled the Wireless Wizard which focusses on Marconi who received the first transatlantic wireless signal on Signal Hill in St. John's. The signal, the letter "S" in Morse code, was transmitted from over 1800 miles away at Poldhu, Cornwall, England.
The Newfoundland and Labrador Teachers' Association sponsored Education Week. They have been sponsoring this celebration since 1936.
Check out these links:

Newfoundland and Labrador Teachers Association

STEM~Net,Newfoundland and Labrador's K-12 Education Network
Back to Front Page
Back to News Headlines