NEWS
Feature Article:
Bringing online technology into the classroom just got easier
by: Megan Cowan, Grade 10 student, Holy Heart High School, St. John's, NF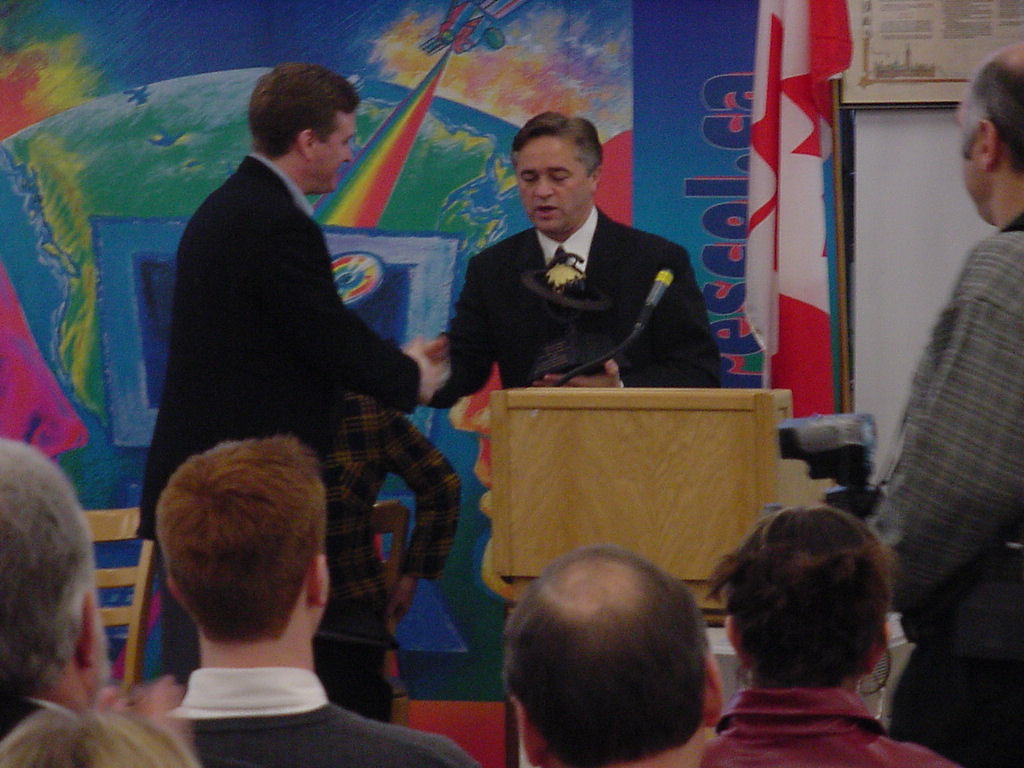 How? On Thursday, January 18th, AOL Canada made a $1 million donation to Industry Canada's SchoolNet GrassRoots Program making it easier for communities and schools to be connected to the internet. This donation brings Industry Canada closer to the $15 million contribution mark they hope to receive from the private sector.
Present for this announcement were Industry Canada Minister Brian Tobin, AOL Canada President and CEO Steve McArthur, as well as Newfoundland Minister of Education Judy Foote, who was Master of Ceremonies for the event. Hosted at Holy Heart of Mary High School in St. John's, the conference included a live webcast, a video conference with a school in Ottawa and a SNN exclusive interview with Industry Minister Tobin and AOL Canada President McArthur.
AOL Canada's donation shows the importance of technology in Canadian curriculum. The GrassRoots Program will benefit significantly from their commitment", stated Tobin. "Our (the federal government) vision for Canadians is that by the year 2004, every Canadian community - 250,000 communities - will have access to the internet; everyone will be connected". "This will be the death of the digital divide", he said. He went on to state that he believes not every individual has equal opportunity due to the lack of high speed access across Canada. His goal is that not only will everybody be linked, but everyone will have the same high speed internet thereby increasing connectivity and ensuring innovative new ways for both teaching and learning.
He added that this donation will go a long way in encouraging other private businesses to help in attaining the $15 million goal. Thereby helping create new and exciting GrassRoots projects. Check out my exclusive interview with Minister Tobin
In introducing Mr. McArthur, he noted that AOL Canada established an initiative to train Toronto youth in an urban neighbourhood to use computers, provided them with 100 computers and 10 years of internet connectivity.
"Access to the internet equals access to opportunity. AOL Canada is honored to be a partner in helping enrich the lives our children", stated Mr. McArthur. He went on to say that the internet is a necessity and the ability of all Canadians, especially young people, to know how to use it is critical. Check out my exclusive interview with AOL Canada President McArthur
During the presentation both Minister Tobin and Newfoundland Minister Judy Foote acknowledged the role Newfoundland had to play in the creation of SchoolNet and the GrassRoots Program. Through Stem~net, Newfoundland's Education Network and its Director, Nancy Parsons-Health, Newfoundland educators have led the country in getting schools online. With the assistance of Stem~net, in 1993 SchoolNet began pilot projects in Newfoundland which lead the way for the SchoolNet National Grassroots Program.
Industry Canada announced in March of 1996 the contribution of $15 million to the SchoolNet GrassRoots Program. With this donation, the Prime Minister also presented a challenge to the private sector: to match the Government's commitment. To date, close to $4 million has been donated by companies such as AOL Canada Inc., Microsoft, Cisco Systems, CN and Imperial Oil. This amount, will be used to create 20,000 classroom based online projects for Canadian schools. Presently, 2.5 million students and 100,000 classrooms have been involved in the creation of over 10,000 GrassRoots online projects.
GrassRoots provides financing to schools for teachers and students to create academic online projects. These projects aid in acquiring skills in critical thinking and teamwork, as well as essential skills in information and communications technology. Many GrassRoots projects from all over the country have already earned recognition internationally. With Newfoundland as its incubator, GrassRoots has already been displayed around the world, including a demonstration for the Queen by students from Musgravetown. The donations that SchoolNet continues to receive will add greatly to the already worldwide success of these projects.
The contribution by AOL Canada will increase the number of Grassroots projects completed each year in Canada. This year in Newfoundland alone, over 900 are expected to be created. Schools in the province have completed 1,400 internet projects.
During the event several Grassroots projects were demonstrated to Tobin and McArthur. The projects were:


_________________________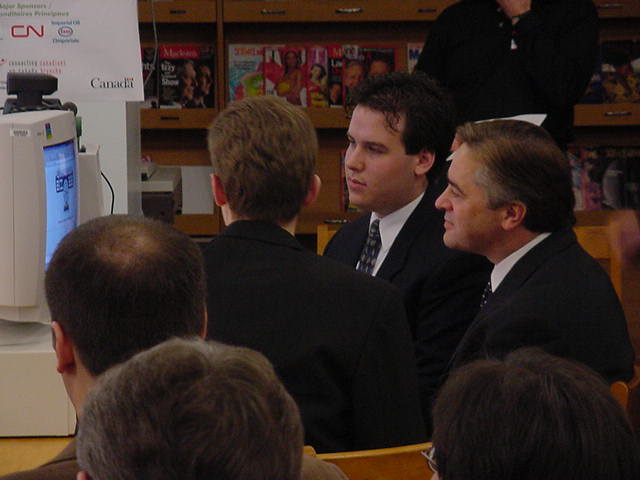 Science Ferris Wheel, presented by students from Holy Heart High School, St. John's, NF. The Ferris Wheel is an online information bank of Science Fair project ideas in areas such as biology, chemistry, biotechnology, life sciences, engineering, physical sciences and psychology. This 24 hour resource helps both teachers and students with the critical first step in a Science Fair project.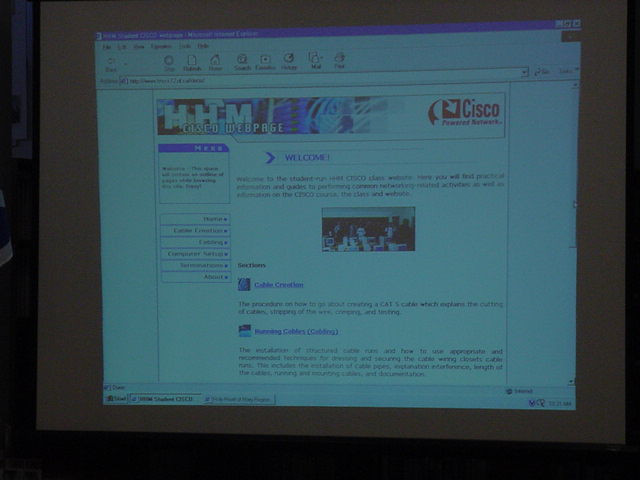 Cisco Systems project, also demonstrated by students from Holy Heart, is an informative site which enables students to take an instructional role in helping others install Home Area Networks. The site gives step-by-step procedures on how to install a network at home.

Students from Mary Queen of Peace, an elementary school in St. John's, NF displayed two online projects: International Art Gallery and Australia Connection.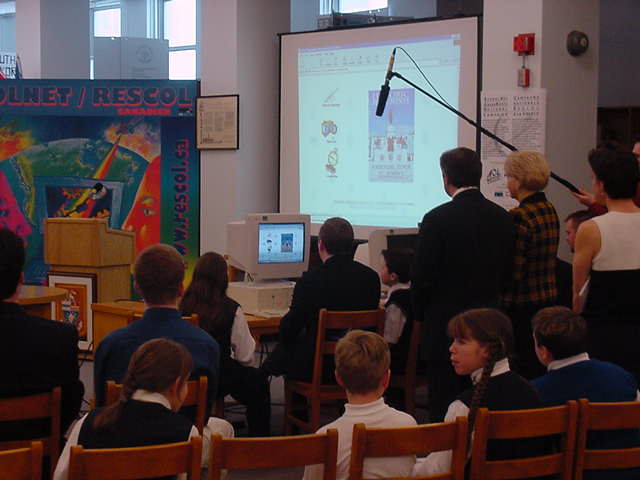 The International Art Gallery, developed by Grade six students, is an assembly of art from around the world, mainly Ireland and Australia.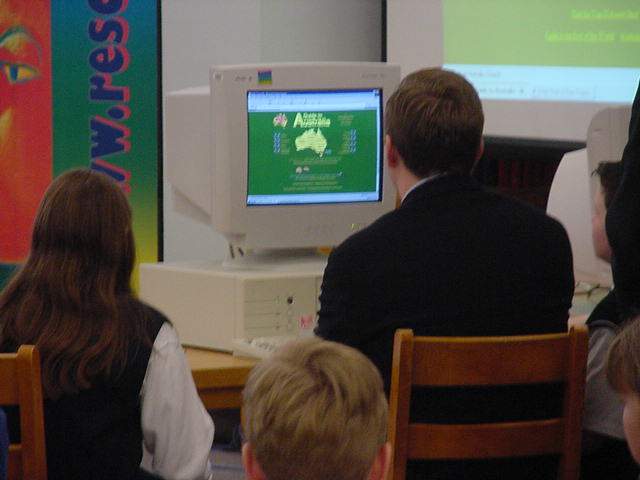 Australia Connection is the result of communication and interaction between Grade four classes here in Newfoundland and one in Wondonga, Australia. This project involves video questions, artwork, email, postcards and brochures exchanged between the students in the two schools.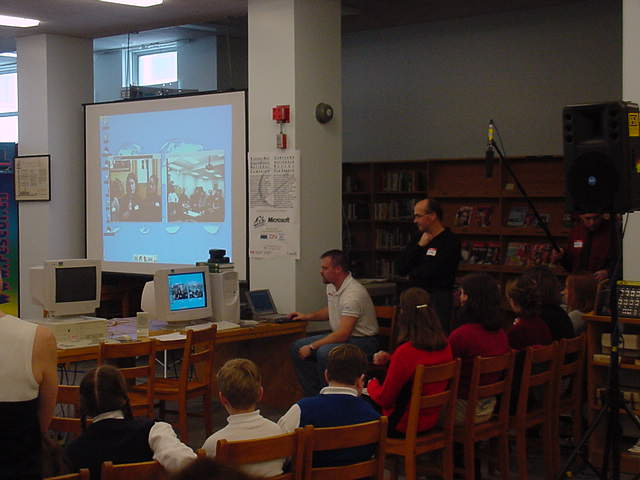 Earl of March Secondary School in Ottawa, Ontario, participated with Holy Heart students in a video conference using the Ottawa-based Communications Research Center's Virtual Classroom Project. Students from both school began discussions on a very important issue - "Water, a scarce resource". During the conference they collaborated on some new ideas and issues to be address. Each group will continue these discussions in their our classroom and will get together again through the Virtual class to develop possible solutions to the issue.
_________________________
Both Tobin and McArthur spent time during the demonstrations talking with the students, learning about their projects and seeing first hand how technology and the Grassroots Program is integrated into schools.
Check out these links for additional information:

Check out Stem~net's video coverage of this important announcement

Grassroots

SchoolNet

AOL Canada


Back to Front Page
Back to News Headlines