&nbsp
&nbsp
Finding Myself &nbsp


an 18 minute film produced by Team TV; script written by Sylina Jones, a student from Holy Heart High, St. John's.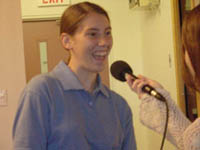 Coverage of FRAMED Media Camp

PHOTO GALLERY

The past five days have been very successful for the FRAMED Communications Team. Christina Coady, Julian Duarte and Adam Peddle have been responsible for the maintenance of the website, and have also followed up on the progress of the Television and Radio groups.
With the professional assistance of Glenn Payette, CBC Photojournalist, Team Communications produced a television story covering the success of this year's FRAMED Media Camp. Check out their video report.
CBC Radio reporter Suzanne Woolridge and CBC New Voices reporter Remzi Cej worked with Team Communications to produce two feature radio stories:



&nbsp Radio report #1: Students who participated in Team TV and Team Radio chatted with Team Communications about their experiences at Framed Media Camp; as well, scriptwriter Sylina Jones talked about the challenges of adapting a script for both radio and television. NOTE: the song used in this report is "Video Killed the Radio Star" by The Buggles.

&nbsp Radio report #2: Without the support and guidance of mentors such as radio producer Glenn Tilley and filmmaker Roger Maunder, the FRAMED Media Camp would not have been possible. Team Communications interviewed both these mentors and others about the challenges they and the students faced as they took on the challenge of producing radio and television stories in just ONE week. NOTE: the song used in this report is "Under Pressure" by David Bowie & Queen.
&nbsp
&nbsp
&nbsp







FRAMED is a Media Camp for senior high students organized by the St. John's International Women's Film & Video Festival in partnership with CBC and SchoolNet News Network. FRAMED is free of charge to its participants. This is the second year for FRAMED....check out last year's media camp at http://www.cbc.ca/yas/framed.

FRAMED is designed to teach participants about media production and promotion by mentoring them through the process. Under the instruction of industry professionals, students will produce both a short film and a radio play of the same script.

FRAMED was organized by: Bonnie Campbell, Marion Cheeks, Jan Foley, Katie Nicholson, Antje Springman, and Krista Vokey. Staff/coordinators: Heather O'Dea and Sara Swain.


For further information contact Katie Nicholson, Festival Director by telephone at 709-754-3141, by fax at 709-754-3143, or by email at womensfilmfest@nfld.net



&nbsp