NEWS
Astronaut Chris Hadfield speaks with SNN
By: Kayla H. Grade 12, Gander Collegiate, Gander, NL
Colonel Chris Hadfield, the first Canadian astronaut to ever leave a spacecraft and float free in space, made a visit to Gander, Newfoundland on April 3rd and 4th of this year. Col. Hadfield was in Gander as keynote speaker for the Newfoundland and Labrador Teachers Association Math Science Special Interest Council Annual Conference. While in Gander, Col. Hadfield also gave presentations to several schools in the area.
Students at both Gander Academy and Gander Collegiate were in awe over Hadfield's amazing experiences and his life as an astronaut. But students in Gander were not the only ones to see his fascinating presentation. STEM~Net, Newfoundland and Labrador's Student/Teacher Multimedia Network, webcast each presentation live over the internet for students across the province and Canada.
During his presentation, which included many images of the Space Station, the Canadarm and the amazing view from space, Hadfield spent considerable time speaking with students. His message to the students ~ ~ "set your dreams high and work for them". To aspiring astronauts, he said you have to expect to work hard. "You have to get an advanced education, not just to learn about a lot of things, but more to prove you can learn at a high level," stated Hadfield.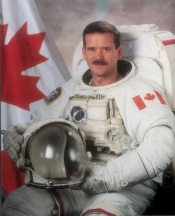 Hadfield, age 43, received a Bachelor in Mechanical Engineering and a Master of Science degree in aviation systems before spending many years in the Canadian military. In June 1992 he was selected as one of four Canadian astronauts from a field of 5330 applicants. Hadfield is currently stationed at the Yuri Gagarin Cosmonaut Training Centre in Star City, Russia, where he is the Director of Operations for NASA.
This was not Hadfield's first time to Newfoundland. In June 2000 he spoke with students of Brother Rice Junior High in St. John's in a live webcast presentation.
LINKS:

Canadian Space Agency
Gander Collegiate
STEM~Net


Back to Front Page