Move over CNN, now there's SNN!

Discovery Collegiate
Bonavista, Newfoundland

By Tracy Russell (Level III)


I always thought, "Computers, What an incredible waste of time"! What was I thinking back then? That was before my experience with SchoolNet News.
Today's youth are idealistic and certainly have opinions. They also need a place to voice these opinions and concerns. Luckily for us, we have just the place! It is a fabulous web site called SchoolNet News (SNN). SchoolNet News is an online newspaper and journalism project developed by the folks at STEM~Net in Newfoundland for K-12 students across the country.
Whether the topic is cruelty to animals, the education referendum, or a review on the hottest new web sites, you can find it all in SNN. The articles that can be found there are a reflection of what matters to young people today. These issues are compiled into carefully constructed journalism-style articles. Some contain interviews, some contain actual pictures and some even contain an occasional sound or a video clip.
The web site contains downloadable information for students and teachers on how to write different types of articles - news, sports, entertainment, or opinion - and is designed to get students writing in a journalistic style. SchoolNet News also runs a mentorship program which pairs professional journalists and university journalism students with SNN students to help develop their writing skills.
Once the School Net News staff receive the articles, they compile them into an online newspaper which is published monthly. School Net News accepts articles from young opinionated students in grades kindergarten through twelve and currently has writers from every province in Canada.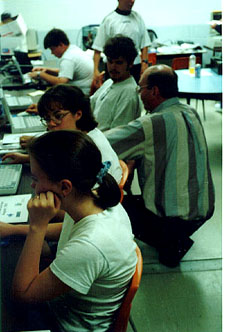 This past August, six SchoolNet News journalists from across Newfoundland, including myself, attended the Hook, Line and Net '97 conference which was held in Gander. This was a technology conference for students and adults, and dealt with use of the Internet as well as other computer-related topics. The SNN journalists attended the conference to report like actual journalists on the events which occurred during the four days in Gander and also to publish a special edition of our SchoolNet News online newspaper.
We also learned a great deal about computers, ourselves, and how to use them to our advantage when it came to publishing articles. Many of us learned how to take digital pictures and how to put them into our articles, and others learned how to add graphics and video clips to their articles. Above all, we had a wonderful experience in learning and a chance to open our eyes to the world of journalism! It was also kind of fun to see kids teach their parents a thing or two about the world of technology!