Secretary of State, Dr. Jon Gerrard, meets Turner Fenton Secondary School students on-line and in person
Turner Fenton Secondary School
Brampton, Ontario

By Vishya and Chantal (Grade 10 )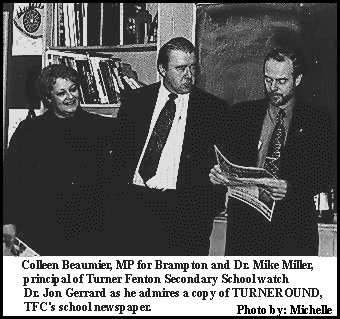 On September 30, students from schools across Canada participated in an on-line chat with Dr. Jon Gerrard, the Secretary of State for Science and Technology as well as for Western Economic Diversification. Turner Fenton Secondary School journalism students Vishya Goel, Chantal Cowan and Daniel DeSousa from Brampton, Ontario joined students from Winkler and Portage la Prairie in Manitoba, and Corner Brook in Newfoundland to ask the Secretary of State questions about on-line newspapers and computer technology as it pertains to Canadian schools. This was the first chat organized by SchoolNet News in Newfoundland.
The students' questions were reflective and mature. Students from Portage La Prairie asked: "How can we make sure all schools can afford an equal opportunity to access the Net?" Dr. Gerrard replied: "We have several challenges. One of these is to ensure that costs for accessing the Internet are low. Second, to make sure that schools are able to use the technology to best advantage. Third, to make sure there are enough computers in schools. All this means it is not always simple, but we are trying hard in various ways -- for example the Computers for School program and SchoolNet, to help schools."
Students from Brampton asked: "Journalism is a hard field to get into. Will the experience students gain from publishing on-line help them in any way?" Dr. Gerrard answered: "Journalism is a very important form of communication. Learning how to write for a newspaper is something that people should learn if at all possible. One of the good things about SNN (School Net News) is that you have the opportunity to work with mentors -- students who are more advanced to help you develop your skills."
Dr. Gerrard answered as many questions as he could while on-line but he was working with a very old version of Netscape and ran into technical difficulties forcing him to log off a number of times. This slowed the chat down. Some students were disappointed with the productivity of the session and indulged in personal conversations which had no relevance to the topic at hand. But the majority of students were eager and appreciative to get their chance to speak with Dr. Gerrard and to hear his opinions on matters that concerned Canadian youths. Janette, a student from Winkler said, "Even though Dr. Gerrard didn't have enough time to answer our questions as well as we liked it has been a good experience in the problems that can occur with on-line chats."
After Dr. Gerrard logged off for question period at the House of Commons, the chat became more casual as students from across Canada conversed with one another. They proceeded to debate several issues surrounding the topic of the Internet. Melanie from Winkler wondered, "I think that computers are great and the new technology is really neat, but where does that leave humans? Their jobs are being taken over by computers and there is less and less social interaction between people. Is there an in between or are we going to have a totally on-line society in the future?"
As if in answer to her question, one week after the on-line chat, on October 8, Dr. Gerrard came to visit the Turner Fenton Campus in Brampton personally. Brampton's Member of Parliament, Colleen Beaumier, accompanied him. They toured the school with principal Dr. Mike Miller, vice-principals Terry Hamm and Alan Colthart, and a student delegation of Kyle Heasman, Vishya Goel, Michelle Chan, and Chantal Cowan.
Both dignitaries found the school up-to-date and the programs and technology quite impressive. The trio visited the Macintosh computer labs where Journalism students produce the print and on-line versions of the school newspaper and art students learn digital imaging techniques. They toured the Communications Technology lab where teenagers produce the cable television show NOISE, and the Resource Centre where a class participates in a class over the Internet. Many students were willing to tell the public figures how they liked the school and describe what projects they were working on.
At the end of the tour, Vishya, Chantal and Kyle had the opportunity to ask the visitors some questions. Dr. Gerrard said that he got most of his technology background by "picking it up as he went along." He also learned about what was happening on the Internet when he was doing his medical research. Dr. Gerrard is a medical doctor.
"[To me] e-mail has become invaluable. I travel across the country, and it becomes...very difficult to keep in contact with people by phone. [This is] a way to keep in contact with people, so I can communicate early in the morning, or late at night," said Dr. Gerrard.
At the moment, the Secretary of State is trying to increase student access to technology because "it will be very important as they go out into the workplace." Dr. Gerrard compared students to injured birds. He said, "the exciting thing is being able to release a bird back [into the wild] and know that it's going to be able to do well,...schools are helping kids so that when they grow up they're going to be able to fly free and do very well."
Dr. Gerrard also had some interesting thoughts about technology. "Technology is a sort of outreach of what we can do naturally. It's marvelous in enabling us to do things that otherwise would have been very difficult. If you think about how people used to have to copy out manuscripts hundreds of years ago, the ease with which you can revise and change, with which you can not only put ideas into words, but video and voice."