Remembrance Day at Discovery Collegiate: Part 2

Discovery Collegiate
Bonavista, NF

By: Nancy (Grade 10)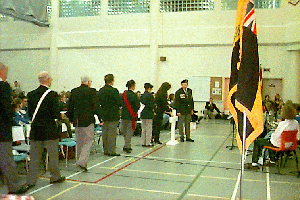 As the students of Discovery Collegiate anxiously hoped for the start of their annual Remembrance Day assembly, they all sat in attention as the long weekend quickly approached.
The master of ceremonies for the event, vice-president of the student council, Wanda C., began the assembly with her opening speech on World War I and II and the sacrifices and risks each soldier made.
The color party from the Royal Canadian Legion marched to the front of the crowded gymnasium, followed by the "Ode to Newfoundland" played by the Discovery Collegiate band.
A huge applause from the students filled the gym at the introduction of the second world war veterans, Korean veterans, poppy chairmen, Ladies Auxiliary, and Reverend Morgan Tuck.
The beautiful opening prayer was read by Reverend Morgan Tuck.
Melissa D., a student of Discovery Collegiate, graced us with her remarkable voice as she sang "The Green Fields of France".
Numerous selections of poems and songs such as, "Show Me the Way." and "Let There Be Peace on Earth", were performed by Gerilynn T., Susan C., Sheri D., and Tiiu S., four talented students who attend Discovery Collegiate.
Poppies were placed on the cross at the front of the gym by guests, students, and staff in memory of war veterans who died in the line of duty.
As a hush fell over the audience, the color party retreated to the back of the gym after the Discovery Collegiate band exceptionally played "God Save the Queen" and "Oh Canada."
This assembly was an excellent way to remember those who fought and died in battle on the eleventh hour, of the eleventh day of the eleventh month.
Lest We Forget!