Grade 11 students -- seize the opportunity

St. Joseph's Academy
Lamaline, Newfoundland

By Tracey H. (Grade 12)


W.I.S.E
Women in Science and Engineering
I am a student at St. Joseph's Academy and this past summer I had the privilege to participate in the WISE program. It was certainly an experience I will never forget and I would highly recommend it to anyone!
WISE is a Canadian network of individuals working together to promote and support women in science and engineering and related careers, and to act as an information resource to educators, employers and government. The program is offered to Newfoundland and Labrador grade 10 females and the duration of the program is 8 weeks. WISE offers summer jobs in science, engineering and medical research at Memorial University, the Fisheries and Marine Institute, C-Core, the Ocean Sciences Centre, the Institute for Marine Dynamics, the Newfoundland Science Centre, and the Memorial University Botanical Garden.
The main goals of this program are:
To encourage women to seek higher education and achievement in science, engineering, and related fields
To provide a support network for women in these fields
To inform Canadians about opportunities for and contributions by women in these fields
To provide a unified, representative voice for our members on issues relating to women in science, engineering and related fields
The co-directors of the program in Newfoundland are Carolyn Emerson and Faye Murrin. They first started the program in 1990. It has been extremely successful and is thus shown by an invitation to a workshop in Vancouver this spring, "Women in the Workplace: Achieving Harmony". The were invited to help develop ideas on how other provinces could set up similar programs to give other young girls the opportunity to be exposed to the world of science, as well as have a lot of fun and make lifelong friends, as I and many others have.
My Personal Experience
My summer placement was with the Newfoundland Science Centre. My summer at NSC was excellent!! The staff and programs at NSC were the best and I couldn't have asked for a better, more exciting job. Along with another WISE gal, Kimberly E. of Labrador City, we worked with 3 other people in summer camps for children, ages 5-8. At first I thought I would hate it because I thought I would be babysitting all summer, but after the very first day, I loved it!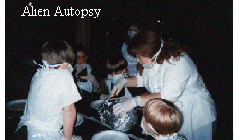 We held Space and Science camps, each lasting a week long, and there were dozens of activities for them to do everyday. I thoroughly enjoyed every minute, and I miss everyone at NSC. It was such a relaxed environment that we easily became the best of friends and this made my job even better.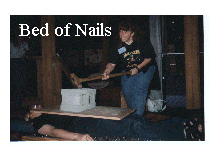 Also, the summer wasn't all work and no play. There were tours planned every Thursday at the workplaces of some of the girls. We visited the Ocean Sciences Center, the Faculty of Medicine, the Institute for Marine Dynamics, the Marine Institute, and the MUN Botanical Garden. There was a whale watching tour, a BBQ at Faye's house in Shoe Cove and the WISE Annual General Meeting, where myself and Kimberly demonstrated the Bed O'Nails and a Liquid Nitrogen Magic Show.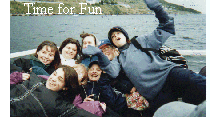 While in St. John's, I lived in residence on MUN campus with 20 other WISE girls. I think it was the best decision I ever made (next to applying for WISE that is!). The friends I made there will forever be in my heart and I know I will never forget any of them!!
In closing, I would just like to mention that Newfoundland and Labrador, and Alberta are the only provinces to offer these types of summer programs, where you actually get paid minimum wage for your work and have the time of your life. I know I did and so did all the other WISE '97 gals. So I'd like to advise all grade 10 girls to apply to WISE; it's an opportunity of a life time!!