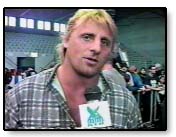 Check out the
interview with Owen Hart
Fans, friends and family are mourning the death of one of Canada's best-known professional wrestlers. World Wrestling Federation star, Owen Hart, died over the weekend after an accident during a televised wrestling match.
Hart fell as he was being lowered by cable into the ring from a ceiling catwalk in Kemper Arena in Kansas City. Reports say he plunged at least five storeys before he hit the ground.