Tullamore Nursing Home

Turner Fenton Secondary School
Brampton, Ontario

By Kathryn P. (Grade 13)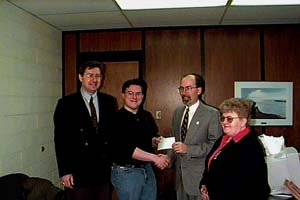 Tullamore Nursing Home officials recently presented a $1,000.00 cheque to Turner Fenton Secondary School in appreciation for a marketing video made for the home by three students. From left, Head of Turner's Communications Dept. Steve Russell, Ian Gadsby, one of the students who produced the video, accept the cheque from Tullamore administrator Geoffrey Doff, and Tullamore activity coordinator Jean Duffy.
The video was scripted, story boarded and shot by the students. Music, titles and effects were then added by them in post-production to fit the "feel" of the nursing home, which now uses the video to show prospective residents and their families what the home is really like.
Ian Gadsby, Richard Glidden and Kevin Laven were the three students involved in the creation of the tape. They are currently earning an OAC Drama credit for a special course in Television Production offered at Turner Fenton. This project took them approximately one hundred hours of hard work including client interviews, scripting, shooting and editing. They also used copyright free music and learned about editing using the new AVID Cinema software available on the Macintosh Performa 6400/200 Video Editing Edition.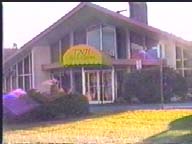 Look! AVI movie (8 Meg).
Warning! This is a very large file.
You will need an AVI player if you don't already have one.