Go-Cart Racing is Life

Bonaventure Meadows Public School
London, Ontario

By Cory D. (Grade 6)



Burning alcohol! Ear smashing noises! Crash! Hit! 360 degree spins. We have kids 6-8 in nat, 9-13 in mosquito, 14-16 in junior light, 17-21 in senior light, and 21 and up in outlaw divisions.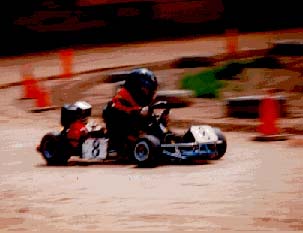 We're coming around the corner for the rolling start. Somebody jump starts (they hit the gas before the race starts). There is no green flag, instead, a yellow one. We go around one more time. As soon as we come around it is green. Here we come around the corner. Now we have a green flag. What a formation around the first corner! We have a spinout, it's car number 19. There is a black flag for car number 3. It's green again! We are half way through, two laps left. We're coming up for the last lap. There's the checkered flag. Car number 8 comes in first, then car number 31, 45, 29, 7 and 5 last.
We are on to the second race. We have a green. We're coming in to the first corner an 29 hits 19 and he goes end over end. He stayed in the car because of his 5 point harness, which goes around the shoulders, through the legs and around the waist. Heis ok. We are green again and 10 more laps left. The last lap looks pretty good. Checkered flag! 8 comes first again then 7, 5, 45, 31 and 29.
I just love go-cart racing. It's a great sport. The scariest things are flipping over, crashing, bouncing and some other stuff. Sometimes it feels good and sometimes it doesn't. Sometimes you can smell the gas, taste the rubber, and feel the speed. It feels scary when you're side by side with somebody, because if you touch his wheels you could flip over, and if he touches yours, he will flip over. When you're going through the corners too fast and you hit a bump, you are either going to go out of control or you'll flip over. So, you have to go wide around the bump, then into the middle of the corner. When you're in the cockpit and you're looking over the dashboard side by side racing with someone, what do you do?..You stay as still as you can with out swerving back and forth. Just good old-fashioned racing. But when your car is flipping, that is scary. I think it's scary because someone tapped my back wheel and I went over three times but it only felt like I spun around and went on my side. That's scary!
Some people race for fun. Some people race for the prizes. Some people race for the Race Against Drugs Program. I race for all three.