Girl Guides of Canada, Guides du Canada

I.J. Samson Junior High
St. John's, Newfoundland

By Corinne R. (Grade 9)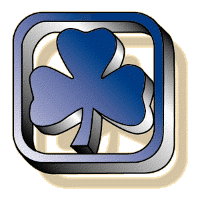 Girl Guides of Canada, Guides du Canada.
Do you want to travel, showcase your leadership skills, and have a lot of laughs at the same time? Well maybe Guiding is the group for you.
Girl Guides of Canada is an organization for females aged five to seventeen, and any female adult who wants to be a leader. One leader Susan Reid commented "My knowledge of Guiding started when my daughter first enrolled in Brownies. I first began as a parent to help out at meetings, then I began to help out at camps and as a badge tester at the same time. I eventually got hooked and became a Pathfinder Leader myself". Leaders are here for the Guiding movement, especially for the younger girls.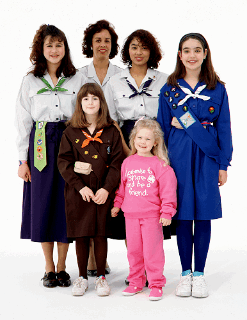 There are six different levels in the organization geared to meet the needs of different age groups. Females aged five to six would be categorized as Sparks. A Spark's goal is to share and be a friend, which is also the Spark promise. Sparks do not receive a badge for their accomplishments. Girls ages seven and eight can join Brownies. Here they are given goals to work for. Guides are for girls aged nine, ten and eleven. In Guides the goals are set higher than in Brownies and they receive a badge for their accomplishments.
For girls aged twelve to fourteen, there is Pathfinders. A leader said "My daughter has improved her leadership skills greatly! She is no longer shy, and likes to help out with other groups, especially with younger kids".
Pathfinders receive a badge, but there are different stages to the badge: bronze, silver, and gold. When a girl has received all gold badges she may be rewarded with a Canada Cord, which is presented by the Lieutenant Governor. Finally, girls aged fifteen to seventeen can join Rangers, Cadets, or Junior Leaders. In Rangers you do not receive a reward, but Cadets receive a gold C pin in their third year. Junior Leaders receive no kind of material reward, but do improve their leadership skills.
The whole point of Guiding is to help girls and young women become responsible citizens, able to give leadership and service to the community, whether local, national, or global.
The history of Guiding is very unique and has helped women become stronger in the community. In 1909, Agnes Baden-Powell decided to arrange an organization for girls. Since her brother Lord Baden-Powell began an organization for boys in 1907, she thought why shouldn't there be one for girls? Guiding began in Canada, Denmark, Finland and South Africa. In 1911 Guiding had spread to Ireland, Holland, and Sweden, and by 1912 Guiding had began in the United States, and Poland. In 1924 the first international camp was held at Fox Lease, England. In 1957 an international camp was held at Doe Lake, Ontario, to celebrate the hundredth anniversary of Lord Baden-Powell's birth. By 1984 Guiding had spread to over 108 countries throughout the world.
Many international camps are now being offered in 1997. One is called Alpine Adventures. It will be held at "Our Chalet", Switzerland. Friendship Session, will be held at "Our Cabana", Mexico. Footsteps of the Founder 1997, will be held at "Pax Lodge" , London England. National Jamboree, will be held in Denmark. These are just a few of the international camps offered to young women around the world. Could you dream of having close to 1000 girls in the same campground, all talking at the same time? What a headache for the animals in the woods!
Girl Guides have four World Centers where members can stay if they are visiting or camping in the area. The four World Centers are Our Chalet, at Adeloden Switzerland, Pax Lodge at London, Great Britain, Our Cabana at Morelos, Mexico, and Sangam, at Pune 41106 India.
For more information about the World Centers:

Our Chalet:
Phone: 011 41 (33) 73 12 26
Fax: 011 41 (33) 73 20 82

Pax Lodge:
Phone: 011 44 (71) 435 2202
Fax: 011 44 (71) 431 3825

Our Cabana:
Phone: 011 52 (73) 15 26 50
Fax: 011 52 (73) 15 28 97

Sangam:
Phone: 011 91 (212) 66 32 52
Fax: 011 91 (212) 66 23 54
For more information about Guiding you may want to visit this web site.

Link
Girl Guides