NEWS
Earning Credits....ONLINE
By: Caitlin M., Oakwood High, Toronto, ON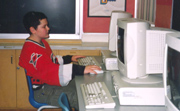 There's a new way to get your Ontario high school credits these days.
Forget night school and summer school. Now you can get extra credits on the internet. The Toronto District School Board is offering students in grade 9 through OAC (Ontario Academic Courses - preparation for university), courses that are completed via the www. Courses include English, Business, History, Science, World Issues and World Religions and consist of a course taken over the internet and one final in-person exam at the end of the term.
One can register for Virtual School at any time; however, they won't be able to start until the next term commences.
Who can register? Any student who has a valid TDSB student number can simply log on to www.itworks.edu and click on the Virtual School link to get started and earn credits right in their own home. See for yourself, it's really that simple!
Earning extra credits has never been easier!
Back to Front Page
Back to News Headlines