PROFILE
On Assignment With CBC
By: Jennifer N., Bishops College, St. John's, NF
As part of my co-op placement, I recently had the opportunity to spend two days at CBC television in Newfoundland. I learnt many things from the people at CBC. One big thing ~ ~ a day in the life of a reporter is never the same as the day before. Take a glimpse at a typical reporter's day at CBC: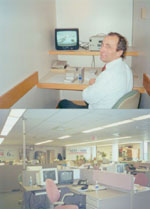 A reporter's day begins between 8:30 and 9:00am with a story board meeting. This is when everyone speaks their mind about what has developed overnight and what ideas they have for new stories. Depending on what type of story they are doing, they may only need to do researching, videotape, or maybe just an interview. But most stories need all three.
After the story meeting I went on assignment with Jonathan Crowe. Jonathan's "beat" is courthouse reporting. So guess where we went…..you guessed it……the courthouse!!! Jonathan wanted to talk to Larry Dyke's lawyer. Dyke is on trial for the death of his child. Jonathan wanted to see if Mr. Dyke's wife would talk to him about what it is like to stand by and support the man that is accused of killing their baby. Jonathan wanted to get another side of the story. But in the end she told him she didn't want to talk to him. She was the key element for that story so, Jonathan had to find another story idea. That happens sometimes in this business. You have a great story idea and then you can't get the information you want or you can't get the right people to talk to you. When this happens, even though it is a disappointment, you have to let it go and find another story.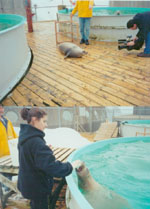 Upon returning to CBC Jonathan went to the newsroom to find other possible stories to report. Glenn Dier, another reporter, was going out on a story assignment so I went out with him. He was on his way to videotape seals and to do an interview with a scientist on how much cod the seals are actually eating. We went to the Logy Bay Marine Center's seal enclosure just outside St. John's. To get video for the story we taped the seals as they were being fed. I even got a chance to feed them ~~ check out the video. ( I thought I was going to lose my fingers!!!! ).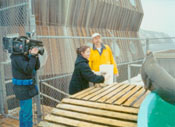 After we finished videotaping Glenn interviewed the scientist. It was quite interesting to learn how an interview is done. I learned that sometimes it is very hard to get people, who are used to talking scientifically, to speak in words that everyone else will understand. You have to be prepared before going into an interview and know your topic. Before you begin taping, you have to talk to the person about the questions you are going to ask them and give them time to come up with answers to your questions. There's also a lot of setting up to do prior to taping the interview. You have to consider the background, the lighting of the space for the interview and what is in the room around you.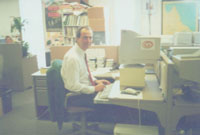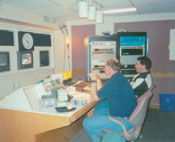 We then headed back to the newsroom and I watched Glenn edit his tape and write his story. The editing machines are amazing and quite high tech. After the story is finished it is then sent downstairs so it will be put on the ˝ hour suppertime news program at 6pm. Everything is pre-set or pre-recorded except for the weather with Karl Wells. There are always last minute changes as reporters edit and write stories right up until the news program starts. There is a lot of team work involved in this job. Everyone has to work together and communicate to be able to put off a good, informative news program every night at the same time.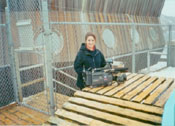 On my second day at CBC I spent the whole day outside videotaping snow damage from the record-breaking snowfall the city received this winter as well as looking for people to interview about the damage with Jonathan Crowe. The most important thing I learned on my second day was that you never know what you will end up doing. Jonathan did not start out with the snow damage story, but with another story. That only goes to show that in this business you never know what story or idea is going to pop up unexpectedly.
As a journalist you must be prepared to put in a lot of effort and be able to go where the news is at any time. We all know that news never stops.
Link:

CBC Television, Newfoundland and Labrador
Back to Front Page
Back to Profile Headlines