PROFILE
Hyatt Moore: Painting Those 'In the Image of God: Faces and Souls that Reflect their Creator'

By: Lily S., Roncalli Central High School, Port Saunders, NF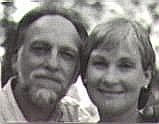 Moore and his wife Anne

No matter who you are or where you live, every person has been created in the image of God. This is the motivation of artist, writer and missionary Hyatt Moore and his wife Anne, who travel the world creating art that captures not only the image of people, but the 'likeness of God' in all people of the Earth.

Hyatt Moore has been involved in missionary work for over 30 years and has been heavily involved in Wycliffe USA. He has traveled around the world working in public relations and administration, and also conducting workshops. Hyatt was also the executive director of Wycliffe USA for five years. Roy Peterson, present executive director of Wycliffe, describes Moore's work as a depiction of how, "made in God's image, people of all cultures and languages reflect something of His likeness" through "the brush strokes, the pastel smudges and the fine detailing of the pencil."

Although Hyatt Moore has only been painting for 5 years, his exceptional talent is evident in his work. His art is not only a treat to the eye, but also a testament to his ministry. Moore states of his and his wife's ministry, "We've used art, because, well, He (God) did. And to emulate Him in this, however paltry by comparison, is another evidence that we are all created in His image."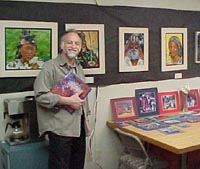 Moore and some of his paintings

Moore uses a variety of artistic media, including oils, acrylics, and pastels, on such surfaces as canvas, wood, and even sandpaper. Some of Moore's paintings come from memory, but many are pictures and slides that have touched Moore and inspired him to re-create these images to share with the world.

Moore said one purpose for painting is to enable everyone to "look deeper inside others and see God in them. Seeing God in all people shows that everyone is important and worth knowing." Moore's paintings prove extremely effective in showing others about the Wycliffe ministry and the success that it has in reaching ethnic groups around the world. It is also an effective way of raising funds to further the ministry.

In earlier years, southern California native Moore, worked as the graphic designer for the magazine "Surfer". This skill was later applied to his ministry and his writing. As an accomplished writer, Moore has written, edited, and designed many books, such as In Search of the Source (co-written with linguist-translator Neil Anderson), Pass the Word, The Alphabet Makers, Any Given Day in the Life of the Bible and his most recent book, In the Image of God.

In the Image of God is a compilation of many of Hyatt and Anne Moore's artwork, along with the work of other Wycliffe Bible Translators members. Brief descriptions and poetic anecdotes accompany many pictures, so that not only are the images beautiful and captivating, but also In the Image of God is a pleasure to read.

In today's world, where language barriers are still difficult to overcome, Hyatt Moore's work captures the very essence of the ministry and the goal of Wycliffe USA. His artwork not only touches the eye with grace, but more importantly, touches the soul.

To see more of Hyatt Moore's work, visit: http://www.hyattmoore.com/main.html





Back to Front Page





Back to Profiles Headlines