Wednesday, July 9th Activities
Team Communications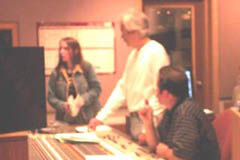 We arrived at CBC Television early, about nine o'clock, and met Glenn Payette, a CBC Canada Now reporter whom we would be working with for the rest of the day. Our project for the day: to prepare a two-minute television report on how the two groups were different. We first went to the studio, and discussed what we would do. Then the three of us along with Glenn and Ken Penney of STEM~Net, got in a CBC van and left for Holy Heart where Team TV were shooting. We found out that they would do some filming in about a half-hour, so we decided to come back. We went downtown to CBC Radio where we spoke Team Radio as they were producing their script. We also shot some footage of the Team in action.
Twenty minutes and ANOTHER parking ticket later, we were back at Holy Heart to film and interview Team TV for the rest of the morning. About lunchtime, we went back to CBC Radio where we interviewed a few people, then back to CBC Television to edit. We first had to write up all of the dialogue from the footage, a grueling task that took us until after three o'clock. Then we wrote the script for how the piece would run. Finally, we went to the studio, where I did voice-overs, and then Glenn edited it until after eight. We didn't get to see it until the next day, but it was fantastic.
Team TV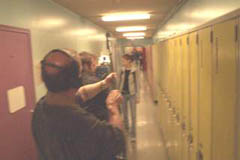 Team TV continued to shoot scenes for their production. Today they were on location at Holy Heart. As in any production, whether here in Newfoundland or in Hollywood, the production team experienced numerous takes and adjustment. Team TV participants learned that details such as camera angles and lighting play an important role in the production of a film.
Team Radio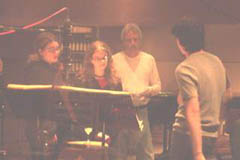 Today Team Radio headed to the CBC Radio studio on Duckworth Street to begin recording their script. Actors familiarized themselves with their lines and other aspects of sound recording such as voice projection, pitch and emotion which are an important element of radio broadcasting. Other members of the team became familiar with the editing room and equipment.