Tuesday, July 8th Activities
Team Radio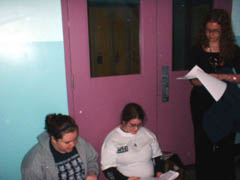 Team Radio were on location at Holy Heart Regional high School. At first, they couldn't get into the auditorium, so they decided to record the scenes out of order, and go directly to a hallway to record their hallway scenes. First they did mic checks, and walk-throughs, then recorded the scene where Marianne calls out to Levon in the hallway. At about 12:15, it was all done.
Once the auditorium was opened, Team Radio began recording the auditorium scene. Many changes were made, for the better, making it a much funnier scene. A personal favorite character is Leonard, played by "Spidey". At almost two o'clock, we used the bell in the boiler room to get the sound of a bell, for the end of the auditorium scene. Later than afternoon Team Radio head down to the CBC Radio studio to continue recording.
Team TV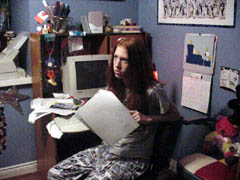 Team's TV's day started in team member - Natasha's house, in Kilbride, where they filmed the scenes of Levon's bedroom, in which most of the play happens. It was shot many times to make sure all the angles wanted were covered. There was at least 5 people in the room, counting boom operator, director and assistant director (there was a different assistant director for each scene).
All the people in the house had to be really quiet, while some of the actors, dressed up, memorized the script and waited anxiously for their scenes to be shot.
Team Communications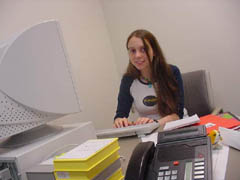 In the morning the Team met at the CBC Television buidling at 9:30am to discuss yesterday's events and plan out the rest of the day. Bio's were written on various participants and diary entries made before the team split up to cover the different teams.
Adam went to cover the Radio team on location at Holy Heart where he snagged lots of pictures of the group in action. Even with the radio team's hectic schedule he managed to get a couple of bios.
With Adam at Holy Heart, Christina and Julian headed down to Framed member Natasha's house where most of the film "Finding Myself" is shot. While having to be very quiet Julia shot some grat pictures and Christina interviewed most of the team for bios.
During a quiet fresh air break Julian got a very interesting interview with Roger Maunder and Justin Simms while Christina took pictures trying to show their better side!!!
After lunch the Communications Team met up again at CBC Television where the day's information and interviews were typed up to be sent off to the Framed Media Camp website.