Monday, July 7th Activities
The morning began with name tags and brightly coloured portfolios as everyone registered and checked in. Eighteen students from St. John's and Mount Pearl gathered at CBC Television for the morning's activities. After an introduction of what each team would be doing and a quick 'hello' from the mentors, the groups broke off for production meetings for radio and television.
Team TV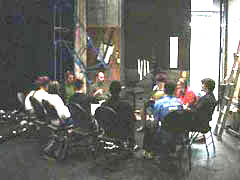 After a quick introduction of the group members, the television team learned what they have to do and how long they have to complete it. To shoot a fourteen minute film in two days and edit it in a day and a half.
Mentors (Roger Maunder and Justin Simms) spoke to the team about the basics of television production such as sound, lighting, art and the camera. Trying to find a place to do production provided to be difficult, but after much debate Holy Heart Auditorium and Team member Natasha's bedroom was chosen for the sets. Besides sets, props and costumes had to be found, such as a William Shakespeare outfit and a bobble head cat!
Team Radio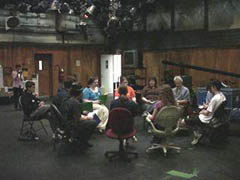 Team Radio began by introducing themselves, their interests and any experience they have. Mentor Glenn Tilley spoke about the important elements of radio such as sound and voice (pitch and tone) and the difference between radio and television production. Team members then read the script for the first time and discussed what needed to be done.
As members read the script out loud, talent was shown as mentors listened to each participant. Tilley noted important points about the script, the time it takes to read it and that parts of the script will need to be changed for radio. Sylina Jones, script writer of Finding Myself, nervously looked on as her script was being discussed.
Team Communications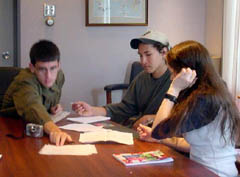 On July 3 and 4th, Team Communications members met with their mentors: Carmelita Joy-Bolger (website and print); Suzanne Woolridge (radio) and Glenn Payette (television). During these meetings, the team learned more about different aspects of journalists and what they would be doing during the FRAMED Media Camp. Once registered for the Media Camp, Team Communications held a brief story meeting with their mentor Carmelita Joy-Bolger. The day's coverage would entail gathering photos and bios of all participants and mentors as well as sitting in on tv and radio production meetings.
In the afternoon, all teams (TV, Radio and Communications) came together to listen Chris Brookes, a well-known radio and theatre producer talk about producing radio. Chris Brookes is one of Canada's better know audio documentary producers.
Brookes spoke about different media format and what they provide their audience. In his view most media provide the facts but do not tell the story. In his view you need to 'engage the listener and help the listener paint their own picture'. Through audio recordings he emphasizes two key things: the use of sound (voices and sound bites) and interesting story storytelling techniques.