NEWS
Have a Heart, Aids Awareness Week
By: Dawn B., Level 3 student, Broadcast Journalism Class at Roncalli Central High School,Port Saunders, NF
Check out our video presentation on Aids Awareness Week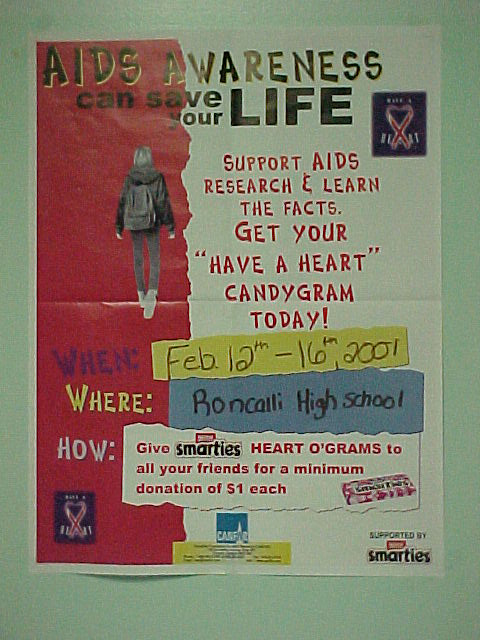 Students at Roncalli Central High School enjoyed a week of fun, guest speakers and sex education as a part of the 6th annual "Have A Heart" campaign.
Packs of smarties, a red ribbon and fact sheets were all part of packages sold by Roncalli's Student Council to help support Aids Awareness week. Throughout the week Student Council placed posters on walls all over the school promoting aids awareness. Also the morning announcements were full of interesting yet shocking facts concerning Aids and the HIV virus.
One of the major fund raisers at Roncalli High was the Heart o' Gram. This was a package filled with a pack of smarties, a red ribbon and an aid fact sheet. They also had a sticker on them so that they could have been given as a valentine gift for that special person. They were sold for one dollar a bag.
On Wednesday February 14th public health nurse Karen Tulk spoke to the Biology 2101 class. She gave the class some input on Aids and HIV prevention. Mrs. Tulk was noted as saying "the most important thing is to protect yourself, so you can protect the people you love." "Have A Heart" is in support of the Canadian Foundation for AIDS research (CANFAR), which is a national, charitable organization in Toronto, Canada.
The goals of "Have A Heart" are to help Canadian youth become HIV/AIDS smart and raise essential funds for HIV and AIDS research. The campaigns goals for 2001 are to have 565 school participate, over 365,000 youth made aware of Aids and HIV and raise more than $100,000.
At the end of Aids Awareness week our school made $200.00 through selling Heart o' Grams. This money will be sent back to the Canadian Foundation for Aids Research. This money will help researchers try to find a cure for Aids and HIV.
Aids and HIV are out there no doubt about it. So be safe. Please protect yourself. For more information on Aids Awareness Week or just general information on Aids and HIV you can check out this web site: www.canfar.com
Back to Front Page
Back to News Headlines