ENTERTAINMENT
Book Review: Don't Die, My Love
By: Kristy, Grade 10, Crescent Collegiate, Blaketown, NF
Donít Die, My Love, by author Lurlene McDaniel, is story about love. It is the story of Julie Ellis and Luke Mulderhower. They began dating in eighth grade. Now in high school they are deeply in love. Luke, a talented football player, is almost certain to receive an athletic scholarship to a top college. No matter what her parents say, whatever Luke does and wherever he goes, Julie intends to follow.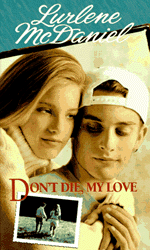 But when Luke can't shake what he thinks is a virus, Julie persuades him to see a doctor. When his test results came back, they were alarming. Luke indeed had Hodgkin's Lymphoma, a form of cancer that develops in the lymph system, which is part of the body's circulatory system.
Throughout the year he had two lots of chemotherapy treatments and one radiation treatment, which never worked for very long. Although the radiation treatment lasted long enough for him and Julie to visit his uncle in L.A., as soon as they got back, Luke got sick again, and for the worse.
In the end Luke died. He died while getting surgery to try and remove the tumor in his lung, but it was attached to his heart and the doctors lost him.
Luke knew he could very well die getting this surgery, but he took the risk and died because of it. Julie didn't know this, only his mother knew. Luke left to mourn Julie, her parents, and his mother and uncle. Julie took it hard. She couldn't eat or do anything for the longest time.
Luke's mother came to visit her, to tell her she was moving away to L.A. She needed to get away from all the memories of what happened. It was then Julie started to get back on her feet. Julie realized that this is life and sometimes this is the price you have to pay for true love.
But in her heart Julia knows Luke is waiting for her up in heaven, somewhere on the other side of all her tomorrows.
Back to Front Page
Back to Entertainment Headlines