ENTERTAINMENT
Potential "Big Hitter"
By Heather V., Fredericton High, Fredericton, NB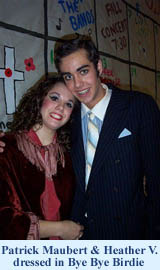 Fredericton High student, Patrick Maubert, is in grade 12 and is already well known to patrons of the theatre in Fredericton. In Theatre New Brunswick (TNB) production of BIG, he was Josh Baskin. In Grease, he played the role of Danny Zuko, while in the recently staged Chicago, he played the role of Billy Flynn. In Fredericton High productions, he has had many lead roles such as Benny Southstreet in Guys and Dolls, Charlie Davenport in Annie Get Your Gun, and Billy Lawlor in 42nd Street. In this year's production of Bye Bye Birdie, Mr. Maubert played Albert Peterson.
Maubert aspires to be more than a local actor. He dreams of hitting the stage in New York City and accomplishing his goal to make it big. Heather V., a grade 12 journalism student at FHS, spoke to Mr. Maubert between his acting gigs.
Heather V: How did you begin acting and why did you continue?

Patrick Maubert: I began acting when I was eight. My sister was auditioning for the Theatre New Brunswick Christmas production of a Christmas Carol and I just went with her because my parents were waiting her. We went into a big room and waited for her to do her thing. The director came downstairs and saw me there. He asked me if I was trying out and I said I wasn't really because I wasn't really into that whole thing. He told me I had to try out because I looked the part perfectly. I went upstairs and recited a poem I learnt the year before in school. I got the role of Tiny Tim and my sister didn't get anything so it was hard for her but that's how it all started.
Heather V: What classes do you take in to help you in musical theatre/acting? How many hours a week do you practice each?
Maubert: I take two hours of voice lessons a week, one hour of piano and piano theory, one hour of jazz dance and TNB. Wow that takes up a good seven hours a week. That's a safe bet. I'm in a lot of other shows too so I practice musical theatre a lot.
Heather V: During a show on average how many hours would you practice?
Maubert: It depends when it is. If it is close to a show you are there almost all the time but if it is close to the start probably about three or four hours a week.
Heather V: During a show on average how much school do you miss?
Maubert: I've missed a fair bit this year because my courses are easier than last year. I would say I've missed quite a few school days.
Heather V: Is it hard to keep up on your schoolwork during a show?
Maubert: I think teachers believe that you can do homework and keep up with your school work while doing a show but really it is impossible because when you're doing a show or a run through you can't be backstage doing homework because your getting ready to go on stage or getting changed. When you get home at twelve O'clock homework is that last thing you want to do but if you have to do it you have to do it. A lot of teachers are very understanding about that kind of thing and will give you a few days extension. I've never really had trouble with that.
Heather V: You sometimes had a part time job too. Did you find this difficult?
Maubert: Yes, up until this year, for grade 9, 10, and 11, I worked at Aura Whole Foods. Luckily my boss was both my cousins and his wife so they were very understanding and I couldn't have done it without them. I missed a lot of work and it was hard trying to re-schedule shifts. It wasn't a good thing. I thought for my last year I should just do shows and stuff so it is a lot less stressful.
Heather V: What other activities do you do besides acting?
Maubert: Well I'm on the TADD executive at school and I do a lot of school organizations like SRC and students aware of the world. I hang out with friends as much as I can but primarily I'm at the theatre doing some show.
Heather V: What was your favorite character and why? Were any most like you as a person?
Maubert: Josh Baskin in BIG was my favorite and most like me. At the time I was a thirteen-year-old boy and I was playing a thirteen year old boy trapped in a mans body. The part fit really well and when you're thirteen your going through a lot of changes. I just seemed to fit my character really well. I think I'm also a lot like Barnaby Tucker in Hello Dolly because he was kind of dorky like me.
Heather V: What challenges did you have to over come playing Billy Flynn in the musical Chicago.
Maubert: The primary one would probably be characterization. He's very smooth and talked very slow and I don't talk slow at all that was a big challenge. Also he was totally different from how I was. He was super sleazy and not a nice guy. I'm use to playing the nice guy in plays so that was a challenge but it was a fun challenge.
Heather V: What was your favorite TNB show and why?
Maubert: That's a toss up between my first and my last TNB shows. My first one was BIG and my last one was Chicago. I liked BIG because I had an amazing role that was probably the best role I'll ever have and Chicago just because it was an amazing show and we got great turnouts and Billy Flynn was a neat character.
Heather V: At Fredericton High, you have had a major part in production every year since you were in grade 9. What was your favorite FHS musical?
Maubert: I would have to say Bye Bye Birdie because it was my last show in high school. I got a really good part, a really different neat kind of character. It was just an overall fun show.
Heather V: What are you doing next school year?
Maubert: I got accepted to the American Musical and Dramatic Academy. There are courses in three sections -- acting, singing, and dancing. For each category there is three or four sub sectors. I got a scholarship so it will be expensive, but this will help. In the beginning I received four thousand dollars a year, but it got bumped up to eight thousand dollars a year.
Heather V: Are you scared of living by yourself in New York? Are you worried about becoming a stereotypical starving actor?
Maubert: I'm not really scared of living in New York. I'm more scared of the school and how I'll measure up to everyone else. There are a lot of starving actors out there, but I think I'll be getting pretty good training. As long as I'm working in the field in some way, whether it is on Broadway, cruise ships, touring the country, or working in cities across the States or in Canada I'll be happy.
Heather V: Do you consider yourself a triple threat?
Maubert: A triple threat is someone who is fluent in acting, singing and dancing. I would consider myself to be a triple threat "wanna-be". I don't think I'm a triple threat yet. I'm not consistant in all three categories, but I'm probably the strongest in singing. I need to get my dancing up there and acting will come with experience. My heart would always be in Broadway, but I'll do whatever pays the rent.
| | |
| --- | --- |
| | &nbsp |
Back to Front Page