&nbsp
NEWS
Model United Nations at M.U.N.
By Betty Zou & Meghan Wall, Prince of Wales Collegiate, St. John's, NL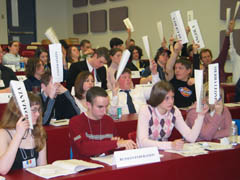 On February 23rd and 24th, 2004, thirty-one students from Prince of Wales Collegiate attended the 13th annual Model United Nations at Memorial University in St. John's, Newfoundland and Labrador. This is one of the most impressive programs ever sponsored by MUN. Over 200 students discussed international affairs in simulations of various UN assemblies. Prince of Wales Collegiate was given seven teams to participate in this year's program: Brazil, Benin, Canada, Japan, Iran, Lithuania and Saudi Arabia. Our school was very well represented considering this Model U.N. totaled 48 participating countries.
The General Assemblies First and Third Committees created resolutions to limit the amount of conventional weaponry a country may posses and to implement measures to effectively control the global drug trafficking trade, respectively. A special session was held to examine the need and efficiency of "Debt-for-Nature Swaps", which involves the cancellation of a country's external debt in exchange for funding to be set aside for environment conservation. The Security Council, with its' five permanent veto-holders and ten non-permanent members, sought to increase the effectiveness of the UN through the proposal of a series of reforms. These included the addition of five more permanent members to the council and changes regarding the use of veto power. In light of the recent outbreak of SARS and other epidemics around the world, the World Health Organization assembled to discuss putting in place procedures to contain the spread of infectious diseases. Finally, the International Court of Justice debated the establishment of a maritime border between Honduras and Nicaragua. A real-life crisis took place during the talks when Honduras seized Nicaraguan civilian vessels and Nicaragua responded by sinking a Honduran warship. These aggressive actions were renounced by the members of the mock I.C.J. and emphasized the urgency of the situation.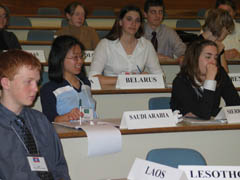 An ambassador who presented a brief speech during the first sitting of the General Assembly led each country's team. Delegates then headed to their respective meeting rooms, where they were expected not only to defend their country's position on the topic, but also to co-operate with the other national representatives to reach a satisfactory compromise for all. Background research on their assigned country and resolution were crucial in order for delegates to represent their country fairly and make persuasive arguments. Amid the furious scribbling of notes and flashes of placards, clauses were taken apart, amendments were written, alliances formed and motions were passed or rejected. What often began as a calm discussion soon evolved into a heated debate with hidden insults hurled back and forth amidst many expressions of frustration and disbelief. In terms of camaraderie, nothing can surpass the feeling of achievement when all the delegates reach a compromise with the unanimous acceptance of an amendment that was created with the help of the international community. Despite the opposition put forth by some nations, all the resolutions were passed with a majority vote, with the exception of the Security Council resolution regarding UN reform, which was vetoed by the Russian Federation.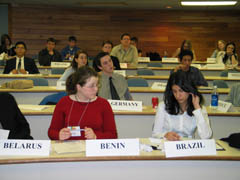 Delegates from our school provided very positive feedback about the Model U.N.experience. Christian Dicks represented Brazil in the International Court of Justice. He commented that "The Model UN is a fascinating experience. It enables the delegates to leverage many of their skills. At the Model UN, one is able to practice public speaking, debating, and leadership skills. Different sessions are equally challenging intellectually, but also very diverse."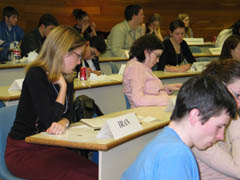 Canada was represented by Jane Tucker, who also attended the Special Session on Debt for Nature Swaps. Jane said "I came out of the Model UN feeling as though I learned a lot about other countries as well as my own. I came out with a greater understanding of how clauses are voted on and how representatives intermingle and learn from each other". Benin, a member of the Security Council, was represented by Jessica Dawe. According to Jessica the "Model UN was an interesting and fulfilling experience, and I would highly recommend this enriching opportunity to anyone who has the chance to attend the Model United Nations 2005!"
Although our school did not win the award for the best performance representing a particular country, we have won previously, and are still very proud of our performance. We would like to congratulate the students of Holy Heart of Mary High, who represented France with impressive expertise, for achieving this well-deserved honor. We hope to come back in 2005 to regain our title!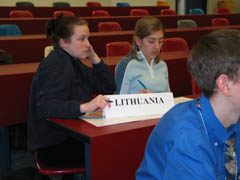 The Model United Nations is a truly unforgettable experience. It has been a milestone in the education of many high school students across Newfoundland and Labrador for over a decade. Very important lessons have been learned concerning diplomacy and the benefits of global co-operation. Every delegate present walked away with a network of new friends, a greater understanding of international affairs and a deeper appreciation for the work of the United Nations. This conference demonstrated the awesome power that we have as youth to bring about positive change for the entire world. Most importantly, it has given us the inspiration and strength to fulfill our potential as tomorrow's leaders and the key to a better, brighter future for all.
| | |
| --- | --- |
| | &nbsp |
Back to Front Page
&nbsp