&nbsp

NEWS

Ian Hanomansing
By Julia Rideout, Prince of Wales Collegiate, St. John's, NL
(Originally published in PWC's student newspaper http://www.pwc.k12.nf.ca/newspaper)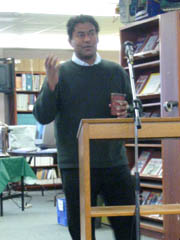 Ian Hanomansing is a world renowned journalist and news anchor. Currently working as a news anchor for CBC, he is responsible for bringing world wide news to our living rooms. On February 17th, he graciously made an appearance at Gonzaga High School in St. John's. Fifteen people from Prince of Wales Collegiate, along with students throughout the Avalon East School District, were given the opportunity to go to his semi-formal presentation and I was fortunate enough to be one of those 15.
First, the Principal of Gonzaga gave us, the 100 or so students and teachers, a brief biography of Mr. Hanomansing. He started working for CBC as a news anchor for the British Columbia branch in 1988. Since that time, he has gone on to cover many important events such as the LA riots in 1992. During his talk, one student asked which of all his stories was the most significant to him. He replied by saying the LA riots, for several reasons, including the fact that due to his great coverage of the events, he was offered a very prosperous job in New York. Luckily for us, he denied the offer saying he was happy with his life in British Columbia. Hanomansing is currently national news anchor for CBC's Canada Now news program.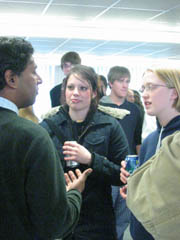 He gave us much advice about pursuing a future in journalism or broadcasting. He told us that when he was growing up in a small town in New Brunswick, his parents always stressed the importance of getting a wide range of education. He told us, that like in every other career, there is a lot of competition. He suggested that getting exposed to many different things may enhance our chances. This exposure includes living in other parts of the world, traveling, and studying different things. Hanomansing himself obtained a law degree before becoming a news anchor. He also said that if you do become a journalist, you have to always carry on a professional attitude, especially if you're working on television. He said "treat every microphone like a live microphone". You never know when you might accidently go on-air.
For us high school students, traveling around the world might not be an option. For right now, he said that public speaking and writing for a school newspaper will defiantly help. Also, perhaps looking for a summer job at a news station, like CBC or NTV. This will give you a better look into what journalism is really like and if it is indeed the job for you.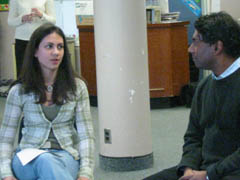 It is such an excellent thing when someone with his fame and celebrity is still humble enough to come to this "have not" province of Newfoundland and Labrador and speak to our youth. I'm delighted to see that his ego hasn't grown as big as to cover his talent. From what I saw and heard, he genuinely is a great guy and has an abundance of knowledge of the world and it's events.
Hanomansing gave the audience a great deal of information, and delivered it to us without acting as if we were young and incompetent. I'm sure that all the other teenagers feel the same appreciation that I feel for that. He is a great example of a true journalist. It was gratifying that I was able to get a closer look at one of my idols. He did a superb job and he impressed me so much that now I'm sure that I want to become a journalist and follow in the footsteps of Ian Hanomansing, my idol.
Also in this issue - Profile: CBC News National Anchor, Ian Hanomansing , by Nick Hounsell
| | |
| --- | --- |
| | &nbsp |
Back to Front Page
&nbsp