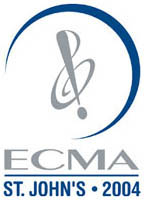 Whether its blues, alternative, jazz, rock, traditional to hip hop, the ECMAs will have it all, and more.

Check out the ECMA website for list of performances such as the 72-hour Jam, Songwriters Circle and the Rising Stars showcase. http://www.ecma.ca.

Newfoundland and Labrador comedians Mark Critch and Shaun Majumder will host the ECMA Awards Gala night 2004 with CBC broadcasting it live from Mile One Stadium on Sunday, February 15, 8 p.m. (8:30 p.m. NT).

ENTERTAINER OF THE YEAR

You have a Say!! Cast your vote!!

via the ECMA website http://www.ecma.ca/

or by calling 1-900-870-ECMA (3262)

This year's Entertainer of the Year nominees are:

Nominees

- Blou

- Crush

- Damhnait Doyle

- Jimmy Rankin

- Melanie Doane

&nbsp

Ya Know Ya Gotta Go. SNN will be there and will bring you coverage of all the happenings. Check out our February edition - online February 25th.

If you love music, then St. John's is definitely the place to be in February. Tickets for the Awards show can be obtained from Mile One Stadium in St. John's http://www.mileonestadium.ca/m1/default.html.