ENTERTAINMENT
Don't Say Good Riddance to Green Day!
By Chelsey C., Fredericton High, Fredericton, NB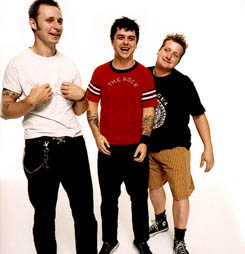 International Superhits
Green Day
Reprise Records 2001
Those punk rockers have done it again.
Green Day has, after all those years of recording, finally released a "Greatest Hits" album.
Three men make up Green Day: Billie Joe Armstrong as vocalist and guitarist, Mike Dirnt on bass, and Tré Cool on drums. Contrary to popular belief, not all punk bands consist of young people in their twenties. All three band members will be turning 32 this year.
The album International Superhits was put together in Oakland in early September 2000 with Jerry Finn as producer.
This album is a reprise of past albums such as Dookie (1994), Insomniac (1995), Nimrod (1997), Warning (2000), music from the motion picture 'Angus', and 2 new songs that had not been released on previous albums. All songs by Green Day were written by Billie Joe Armstrong, the lead singer and guitarist. They have been making music for 14 years now, and I think they're far from finished.
One song in particular, 'Minority', has been a big hit in the past back in 2001 when the album was first introduced. The lyrics to this song, 'I don't need your authority, down with the more or majority cause I want to be the minority' are fun and catchy. They also portray the message that you don't always have to be the same or do the same as everyone else. You would most often find people humming this song day in and day out after it was released. Green Day has had several hits over the years such as 'Good Riddance', 'When I Come Around', 'Warning', 'Waiting', and 'Brianstew'.
The album International Superhits has all of these songs on it, as well as some of their lesser known songs. The two new songs, 'Maria' and 'Poprocks and Coke' were recorded specially for this album, to go along with the other 19 tracks.
I think this album is great for both big fans, and not so big fans. It compiles most of their hit songs together on one disc for your listening enjoyment without the inconvenience of having to buy all the albums just to listen to a few of your favorite songs. All in all, I think International Superhits would be a great choice for anyone who is a fan of Green Day. Or just a fan of punk rock.
http://www.greenday.com/ Green Day website
| | |
| --- | --- |
| | &nbsp |
Back to Front Page