&nbsp

ENTERTAINMENT

Newfoundland's Woodstock:
The Exploits Valley Salmon Festival 2003.
By Allison Furlong, Grade 12, St. Gabriel's All Grade, St. Brendan's, NL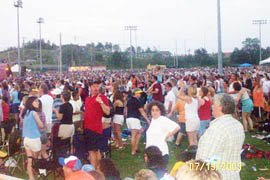 There I was, standing in thirty degree weather, surrounded by ecstatic fans who were loving the music as much as I was. There were arms and limbs flying everywhere as body surfers flew by overhead. Every few minutes, the ever distinct smell of marijuana filled the air, which was then replaced by the much anticipated spray of cool water against my skin.
No, this wasn't Woodstock, this was The Exploits Valley Salmon Festival 2003.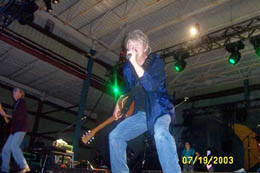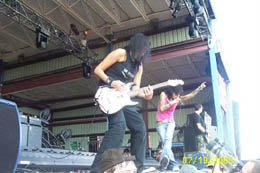 Held in the quiet, little town of Grand Falls Windsor, Newfoundland, The Exploits Valley Salmon Festival began in 1985 as a celebration in honour of migrating Atlantic Salmon. But over the past nineteen years, the festival has quickly grown into quite an international event. Being recognized as one of the Top 100 Events in North America, it has staged such top Canadian acts as Blue Rodeo, Chantel Kreviazuk, I Mother Earth, Matthew Good Band, Nelly Furtado, Tea Party, and many others. This year's event proved to be a huge success as well, with such acts as Bif Naked, Sam Roberts, Swollen Members, Tom Cochrane & Red Rider, and Newfoundland's own Great Big Sea.
Another highlight which is probably as acclaimed as the concert itself, is the camp site. A new camp site (same name) 'Red Cliff Rocks', was introduced, which had space for 1100 concert-goers, 400 more than the previous campsite. With over 1000 people at the campsite, and endless dancing and partying for nearly 48 hours straight, Red Cliff, once again, lived up to its name. There were even a few celebrity sightings, with the guys from Swollen Members and Sam Roberts roaming about, kindly signing autographs and smiling for the occasional camera (which I have proof of -yay!)
Although I don't see how this years concert could be topped, rumours have it that it will be-somehow. Next year is the 20th anniversary, which will, no doubt, be celebrated in a way that only us Newfoundlanders can.
Sounds fun huh? Visit http://www.salmonfestival.com for more info. See you next summer!
| | |
| --- | --- |
| | &nbsp |
Back to Front Page
&nbsp