&nbsp
ENTERTAINMENT
The Gravity of the Situation is Not Ground Breaking
By Holly M., Grade 12, Fredericton High, Fredericton, NB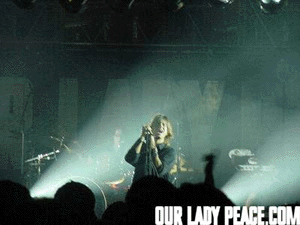 Gravity
By Our Lady Peace
Columbia 2002
Our Lady Peace has, once again, proven they still know how to rock.
Canadian rocker's Our Lady Peace is made up of Raine Maida on vocals, Duncan Coutts on bass, Jeremy Taggart on drums and Steve Mazur on guitar. OLP recently parted ways with long-time member Mike Turner, who was replaced by Steve Mazur. Gravity is OLP s fifth album. It is preceded by "Spiritual Machines" (2000), "Happiness & Is Not A Fish That You Can Catch" (1999), "Clumsy" (1997) and "Naveed" (1994).
Gravity is simply a crisp rock and roll album, no strings attached. The recording and sound quality is excellent. Although it was recorded in a studio, Gravity has an aggressive, live energy. You can hear every strum, every beat and every note on this album.
This album does not stray very far from the band's other albums. Crunching guitar riffs, great vocals and strait forward lyrics are still in play. Our Lady Peace decided to ditch long time producer Arnold Lanni and work with super-producer Bob Rock (Metallica, Motley Crue). A slightly more aggressive sound and a straight-ahead rock attack were brought to this album. On track #6, "Not Enough," the guitar is great. This song proved Steve's musical ability and great energy. The guitar solo is also done very well; it is powerful and full of energy. Duncan Coutts's smooth yet strong bass lines support the entire album. On songs like "Bring Back the Sun," and "Made of Steel" the bass lines are commanding. Unlike some bands, the bass does not get lost amongst the vocals or guitar. Drummer Jeremy Taggart brings a jazz influence to this album. His unique style and energy brings Gravity to a new level. Perhaps the most important ingredient in the success of this album is Raine Maida's beautifully powerful vocals. Raine can really sing. He puts his heart and soul into every note.
Gravity may not be a ground breaking, funky album and it may sound a bit formulaic, but it is very well done. One thing I found exciting about Gravity was the variety of songs. You get a little but of everything, big-ballad rock songs, aggressive songs and even some sad melodic songs. Even though they stick to the same old recipe, Our Lady Peace definitely knows how to deliver some great rock and roll tunes.
| | |
| --- | --- |
| | &nbsp |
Back to Front Page
&nbsp