&nbsp
ENTERTAINMENT
Keepin The Faith
By Kerys L., Grade 12, Fredericton High, Fredericton, NB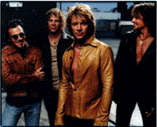 "Crossroad (The Best Of Bon Jovi)"
by Bon Jovi
Mercury Records (1994)
In your journey along the highway of music, I suggest you make a stop at Bon Jovi's "Crossroad".
Bon Jovi consists of Jon Bon Jovi (originally Bongiovi) on vocals and guitar, Richie Sambora on guitars and backup vocals, Tico Torres on drums and David Brian on keyboard, all hailing from different parts of New Jersey (except Torres, born in New York) hence the name of their 1988 album "New Jersey". Some of their other albums include the debut self titled "Bon Jovi", from 1984, "7800 Fahrenheit" ( 85), "Slippery When Wet"( 87), "Keep the Faith" ( 92), as well as the more recent "Crush" (2000) and "Bounce" (2003). WARNING! If you were never a fan of the eighties, avoid this album at all costs, because Bon Jovi was at the highest point of their careers smack dab in the middle of that particular decade, and it s reflected in their music.
This is a studio recording and the sound quality is pretty much as good as any other. All the instruments and vocals come through clearly.
As for lyrics, I give them an A+. Whether it s surprisingly tender ballads ("I'll be there, till the stars don't shine/ till the heaven's burst and the words don't rhyme/ and when I die, you'll be on my mind/ and I'll love you...always", "Always"), thought provoking social commentary ("We're halfway there/ livin on a prayer/ take my hand, and we'll make it I swear/ livin' on a prayer", "Livin' on a Prayer") or just plain fun rock songs ("Now this boy's addicted cause your kisses are drugs/ your love is like bad medicine/ bad medicine is what I need", "Bad Medicine"), Bon Jovi does it all, and they do it well. They don't really play any better than other bands of the genre, nor is Bon Jovi an unusually talented lead singer. But there's a gritty quality to his voice that makes the lyrics sound more sincere and admittedly Sambora's skills with his guitar are fairly impressive.
There was only one thing I didn't like about this CD, and that's the horrible "Prayer 94". Why would you ever remake a song that badly? This song makes me thankful for the skip button on my CD player. In the years since I got this disc, it's gotten a lot of use. Aside from that, this is the very best of Bon Jovi up to 1994, and anyone who calls themself a fan who doesn't already own "Crossroad" should seriously consider shelling out the twenty bucks. If you're hoping it'll end up in the three dollar discount bin, don't hold your breath, because as long as their fans 'Keep the Faith,' they'll continue selling.
| | |
| --- | --- |
| | &nbsp |
Back to Front Page
&nbsp